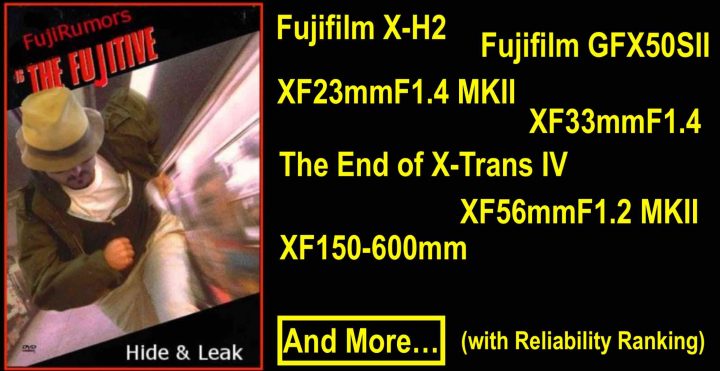 Half a year has passed.
Lots of rumors have been shared already (and many more will come ;) ).
However, there is something I never do: rank the rumors in a reliability ranking.
I hate to do that, as an anonymous rumor is not necessarily less reliable than a trusted rumor. There is much more that needs to be checked in order to determine if a rumor is reliable or not. And also, something that is rocksolid at some point, may become less sure later on as Fujifilm changes plans.
That's why I hate to rank rumors.
However, it is something you request me to do, hence, 1 or 2 times a year I bend to your will and do just that.
So, you can find the rumor-ranking down below.
Also, we will check back and see which rumors FujiRumors got right and which wrong, so that you guys can judge my work and decide if your time on FR was well spent or not. I will be extremely brutal to myself and move in the wrong section every ever so minimal error I made, even though it was accurate at the time of sharing.
Two more things:
Included in the list some of the fake rumors circulating around that FujiRumors had to debunk.
If you want to get a timeline on when the products will come, check out this post.
One last note: Back in November 2020 we shared an article, where Sigma itself teased Fujifilm X mount lenses coming 2021. And as if that was not enough, they teased them again in February 2021. In between those Sigma teasers, on December 14, 2020, FujiRumors shared a rumor that Sigma has indeed plans to release Fujifilm X mount lenses. This rumor is not included in the list below, as it from 2020. If you want to check back the 2020 rumors, make sure to read this article.
So let's start:
49 rumors shared in 2021 so far (many more to come)

27 rumors still to be verified
21 correct rumors out of 22 verifiable rumors
1 wrong rumor out of 22 verifiable rumors (I told you I'll be brutal to myself ;))
95,45% correct rumors
Rumor Overview with Rating