X-TENDED: Amazing X-DEALS will expire 27th of December (instead of NOV29) + XF 18-135 will be $100 off, too!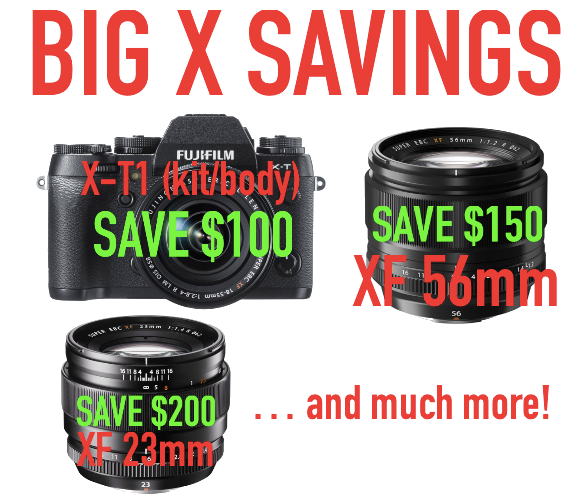 YOU CAN HELP

Keeping Fujirumors updated 365 days a year with free news/rumor/deals coverage is often a pretty hard work. If you enjoy to stop by my blog now and then and you are also interested in these deals, please consider to grab you gear using one of the links below. A small commission will be valued back to this blog with absolutely no extra costs for you. Thanks a lot to those X-shooters, who decide to support Fujirumors this way… your will allow me to keep this website running and to keep up with the rumor sleuthing.
THE DEALS / RUMOR

A usually reliable source just told me that Fujifilm will extend the latest X-deals that were supposed to expire on NOV29, and they will add also the weather resistant XF 18-135 to the existing deals. The new deadline will be the 27th of December. I consider this source reliable… but if you don't want to take any risk at all, purchase your discounted X-gear within NOV29.
lenses
COMING SOON: XF 18-135 WR (save $100): BHphoto / AmazonUS / Adorama / Pictureline /
XF 56mm f/1.2 (save $150): BHphoto / AmazonUS / Adorama / Pictureline /
XF 23mm f/1.4 (save $200): BHphoto / AmazonUS / Adorama / Pictureline /
XF 14mm f/2.8 (save $200): BHphoto / AmazonUS / Adorama / Pictureline /
XF 35mm f/1.4 (save $100): BHphoto / AmazonUS / Adorama / Pictureline /
XF 60mm f/2.4 (save $150): BHphoto / AmazonUS / Adorama / Pictureline /
XF 10-24mm (save $200): BHphoto / AmazonUS / Adorama / Pictureline /
XF 55-200mm (save $150): BHphoto / AmazonUS / Adorama / Pictureline /
cameras
X-T1 body (save $100): BHphoto / AmazonUS / Adorama / Pictureline /
X-T1 + XF18-55 (save $100): BHphoto / AmazonUS / Adorama / Pictureline /
X100S (save $200): BHphoto / AmazonUS / Adorama (with FREE Fujifilm EF-20 TTL Flash) /Pictureline
X-PRO1 + 18mm (save $300):  Adorama
X-E1 + 18mm (save $300): Adorama
X-M1 + 18mm (save $300): Adorama
X-E2 + XF18-55: Adorama