X-T1 + 18-135 already available for pre-order in Canada for $1,900 (Henry's)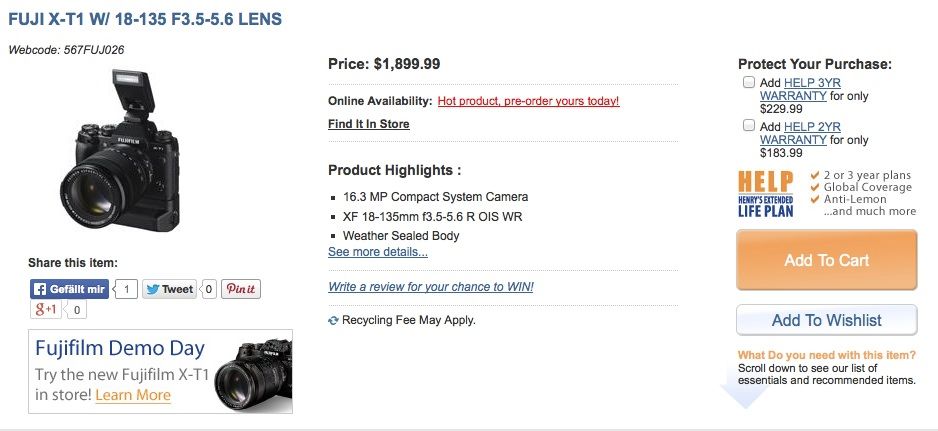 IN STOCK CHECK
X-T1 body only ($1,299): USA: AmazonUS / BHphoto / Adorama / Pictureline / EU: wexDE / wexUK / PCHstore /
X-T1 with 18-55 ($1,699): USA: AmazonUS / BHphoto / Adorama / Pictureline / EU: wexDE / wexUK / PCHstore /
_ _ _
Henry's in Canada is already taking pre-orders on the X-T1 + 18-135 WR lens for $1,900. See more here.
_ _ _
– Eric Bouvet (facebook) took some images of the anti-government protests in Kiev with the X-T1 and X-Pro1. See his great images here.
– Fujifilm X-T1 ~ The Evolution Continues at kevinmullinsphotography here: "This Fuji X-T1 is without doubt going to be a prime body for me when I shoot weddings.  Coupled with the 56mm F1.2 lens I am indeed, a very happy jetlagged bunny."
– The 56mm and a little bit more of the X-T1 at neillsoden here: "The AF performed well, and I was happy with it for my needs. The AF-C is something to get used to and almost felt like a hit-and-miss at times. However, most of the time I was impressed when an object moved away from or towards me.  I did try the AF on some small birds. Now, I am no bird photographer, and can't really compare it to the a DSLR, but in my own opinion, I doubt it will work for bird or sport photography just yet."
– moslake: "More tests for the capability of Fujifilm X-T1 with XF 56mm f1.2 under varying low and colorful lights. All are SOOC (Straight Out Of Camera) JPG without any adjustment. Link here. X-T1: Focusing speed is similar to 1DX/5D3 in low light. Accurate in color balance and capable to deliver Straight Out Of Camera JPGs. Quality similar to 1DX/5D3 in low light."
– X-T1 review at danbaileyphoto here: "If you're not ready to dump the DSLR yet, (I'm not either) the X-T1 makes an excellent companion camera for those times when you want to save on weight and bulk, but still need the performance of a pro grade camera. Maybe you'll shoot the DSLR for some things and use the X-T1 for traveling and times when you want to go light. You'll probably find yourself using the DSLR less and less."
– Polish test at fotopolis here (translation).