Viltrox 85mm F1.8 Autofocus Lens for Fujifilm Delayed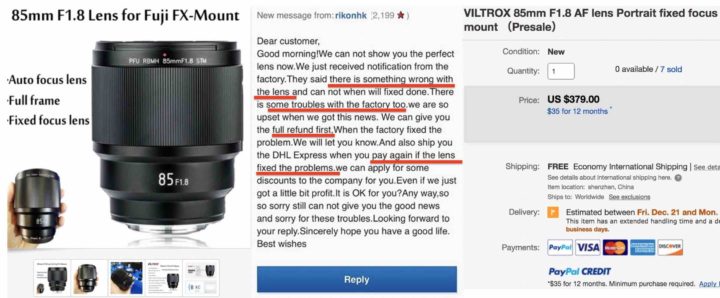 FR reader Chris pre-ordered the Viltrox 85mm F1.8 autofocus lens for Fujifilm at eBay here. Now he has been contacted by the retailer, who told him that there are issues with the lens, and hence the shipping, which was originally expected for October, will delay.
As you know, I did test a pre-production Viltrox 85mm F1.8 AF lens at photokina in September, and I share an autofocus video as well as JPEG and RAW samples to download here.
"We can not show you th perfect lens now, We just received notification from the factory. They said there is something wrong with the lens and can not when will fixed done. There is some troubles with the factory, too. We are so upset when we got this news. We can five you the full refund first. When the factory fixed the problem, we will let you know. And also ship you the DHL Express when you pay again if the lens fixed the problems. We can apply for some discounts to the company for you. Even if we just got a little bit profit. Is it OK for you?"