Topaz Labs Apps Explained in Under 2 Minutes (VIDEO)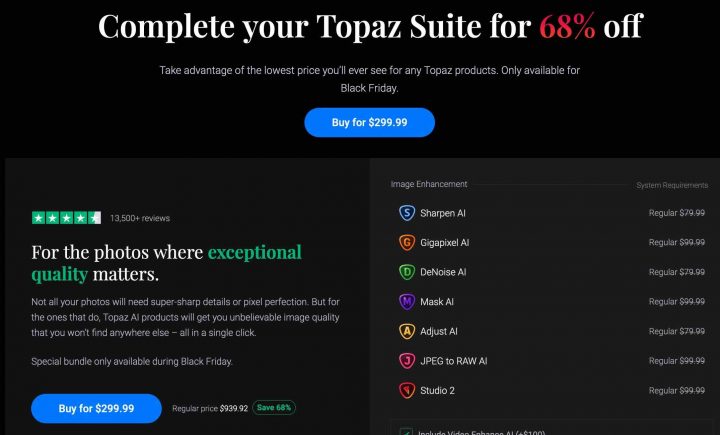 Topaz has released a very short video, where they give you a rapid overview on what you can do with their Apps. You can see the video below.
If you want to get a bit more detailed overview, down below is a quick written summary of every single feature including before/after images.
Thanks to the Black Friday, you can get the TOPAZ one-time-only mega bundle deal with a hefty discount of 68% here.
You'll get DeNoise AI, Gigapixel AI, Sharpen AI, JPEG to RAW AI, Mask AI, Adjust AI, Topaz Studio 2, and Video Enhance AI for just $299 instead of $1,000.
If you are not into video, you can remove Video Enhance AI from the bundle and hence get it all for just $199!
And if you already own at least one if not more Topaz products already, you'll only pay for what you don't own – meaning you still get to take advantage of some serious savings and Topaz will extract what you already own.
Check out the Topaz Bundle deal here.
Topaz Products Overview
Video Enhance AI
Arguably our most talked-about product this year, Video Enhance AI allows you to upscale and enhance video footage up to 8k resolution.
With over four million views, YouTuber Denis Shiryaev's upscaled video originally shot by the innovative Lumiere Brothers in 1896, shows passengers boarding and exiting a train. The unbelievable restoration of the footage with Video Enhance AI makes it look like the 120-year-old footage was shot today… albeit with actors in period costumes, because of course, styles have changed!
The original footage itself caused something of a stir when it was released. Legend has it that audiences screamed when the train came whirring by on-screen because they had never seen a moving image of a train coming, what looked like, straight at them.
Video Enhance AI can also produce some jaw-dropping, never-before-seen results. Traditional video upscaling simply stretches resolution, really wreaking havoc on fine details. There has never been a way to perfectly recreate high-resolution video from low-resolution footage until Video Enhance AI came along.
But you don't have to dig back quite so far as the 1800s to find footage to upscale. With Video Enhance AI, you can take your footage from SD to HD with an incredible increase in quality. So, even if you're mainly focused on photography, you can surely find some video content in your library to experiment with! It's perfect for older footage that you want to repurpose for modern use:
Commercials
Music Videos
Movies and TV
Compressed YouTube Videos
Video Game Footage
Gigapixel AI
Everyone loves a good segue, so let's talk about upscaling photos now that we've covered upscaling video. Before we learned to run, we jogged with Gigapixel AI!
Gigapixel AI is the first and only image upscaling tool of its kind – thanks to machine learning, you're able to enlarge an image up to 600% without a loss in quality.
Gigapixel AI solves such a common problem in photo editing: the need to enlarge an image without sacrificing the details. And while we love Photoshop for so many reasons, their upscaling tool heavily pixelates images past a modest size increase.

Gigapixel AI is able to upscale a wide range of problematic photos, including:
Drone photography
Scanned photos
Video stills
iPhone/smartphone photos
Compressed images downloaded from the internet or social media
Libraries of older low-res photos
Low-res crops in post-production
It's one of the tools you won't want to be without.
DeNoise AI
Every photographer struggles with image noise at some point. Finding a post-processing tool that balances between removing noise while keeping precious image details is an even bigger struggle.
DeNoise AI is the best-in-class noise reduction tool for effectively stripping unwanted noise and enhancing crisp image details!
"After seeing many positive reviews of DeNoise AI, I took the plunge and bought the product. It certainly lived up to my expectations and has been a huge help to me in my interest of wildlife photography which was plagued with noise due to the high speeds I needed." – Richard Brabbs
And as astrophotographers, concert photographers, and or anyone shooting in less-than-desirable lighting can relate, low-lighting can make it aggravating to get a shot you're happy with. DeNoise AI includes a Low Light Mode to tackle tricky noise and regain control of your shot.
"This is an awesome tool, especially for someone like me that shoots 95% of my work in HDR and handheld, in addition to shooting with Nikon D5200's where noise can be an issue with low light and higher ISOs. It really did an amazing job and I look forward to adding it to my toolbox and working on the many nice, but noisy shots, I have in my portfolio!" – John E. Adams
Sharpen AI
If there's "a peanut butter and jelly" in post-processing, it has to be noise reduction and image sharpening. The perfect complement to DeNoise AI, Sharpen AI is the most advanced image sharpening tool in its class.
Unlike Photoshop's sharpening tool, Sharpen AI's technology gets to the root of what is causing image blur and corrects it.
Even the steadiest hands don't compare to a tripod when it comes to image sharpness. Sharpen AI's Stabilize module has been trained to reverse motion blur and make handheld images look like they were taken from a tripod.
Missing the focus is another very difficult problem that is so easy to get wrong. Sharpen AI goes beyond standard image sharpening to rescue previously impossible-to-correct images and gives you a second chance at getting it right.
"Topaz Sharpen AI has become an integral part of my workflow for image sharpening. If you are cropping in on subjects or performing large print jobs, then having sharp images matters. Topaz Sharpen AI should be in your toolkit. And now with the addition of selective adjustments, image sharpening just got a whole lot better for wildlife photographers."_ – Bill Maynard_
We recommend using Sharpen AI right after DeNoise AI for best results in a workflow!
Mask AI
When it comes to creating image masks, everyone wants the same thing: a reliable editor to handle not only simple masks but complicated ones with as little work from the user as possible.
There will always be complex masking tasks, but with Mask AI's machine learning technology, you won't have to agonize over the details!
"I have been using Topaz masking programs exclusively for many years. Mask AI is their latest and best masking program that allows users to explore infinite artistic possibilities."_ – Gary Lamott___
You can even let Mask AI automatically detect your subject. One click fills what you want to cut, one click fills what you want to keep, and then compute! Add a fresh background and see what kind of creative composites you come up with!
Mask AI is a must-have for anyone working on creative projects or doing lots of selective adjustments!
Topaz Studio 2
Speaking of a must-have for creatives, there's not another editor like Topaz Studio 2. We've packed it with so many one-of-kind filters, it's truly unique.
Topaz Labs actually started off creating Photoshop filters. We've condensed our decade of specialized post-processing experience into a set of the most useful filters available only for Studio 2.
Many of our Topaz Studio 2 "evangelists" comment on how much easier it is to use compared to some other creative photo editors on the market. We designed it to offer lots of flexibility, but in a way that's very intuitive to beginners and professionals alike.
"I have been waiting for software like Studio 2 for a long time. The possibilities are limitless, from subtle background enhancements to an electrifying 'wow' look with fractal and neon effects." – Cindy Cone
Studio 2 is the editor to use when you want jaw-dropping images and you're not afraid to spend the time to get them. It's for creating works that push the bounds of your artistic vision; the few that you know you'll look back upon in years as one of your best creations!
Adjust AI
If you want something to make your photos pop, but don't have as much time to experiment, Topaz Adjust AI is your answer.
With just one click, Topaz Adjust AI leverages the power of artificial intelligence to transform your photos into something incredible. Our AI-powered modes bring out colors, shadows, details, and more to make your photos as vivid as intended—all in one step.
"Very few things come along that completely change your workflow, but Adjust AI is one of those rare gems that you wonder how you lived without. It is, without a doubt, my favorite plugin of all time." – Scott Stulberg
Whether you're a pro photographer looking to speed up workflow, or a beginner that doesn't want to spend hours learning how to edit photos, Adjust AI can make your photos pop.
You can also apply contemporary, one-of-a-kind looks to your photos in just one click! With Adjust AI's curated preset collection, you can get inspired by a range of modern, trendy looks and apply creative styles to your photos.
JPEG to RAW AI
Wouldn't you love to be able to edit JPEG as if you shot it in RAW? Welp, just like the name says, JPEG to RAW AI can perform a little miracle on JPEGs and restore the editing capabilities to that of a RAW photo!
Your image loses significant dynamic range when it's converted to JPEG. JPEG to RAW AI helps you recover a portion of this lost dynamic range by bringing back lost shadow and highlight details.
This application uses machine learning to convert JPEG to high-quality RAW and prevents banding, removes compression artifacts, recovers detail, and more.
Even if you're shooting in RAW most of the time, every photographer has a library of JPEGs they wish they could do more with.
Get the Topaz EVERYTHING Bundle deal here.