This Guy Claims You can Upgrade Your Viltrox 85mm f/1.8 to f/1.6 via Firmware plus Viltrox Official Statement to FujiRumors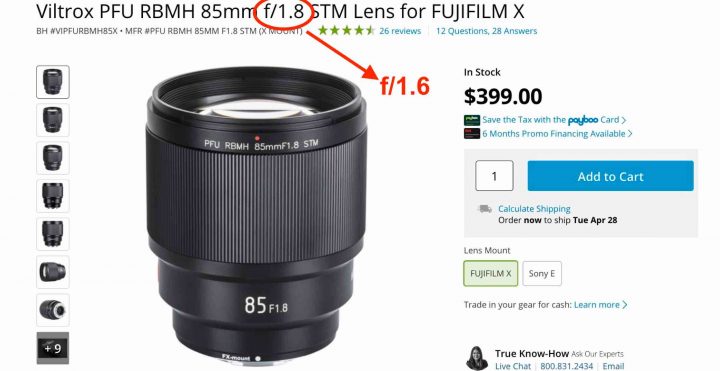 I actually wanted to ignore this news (for reasons I will explain below), but readers keep sending me the video, so it is time to address it.
According to a video shared by Stefan, the Viltrox 85mm f/1.8 is actually firmware upgradable to f/1.6!
To be clear, this is not an officially released firmware. It is circulating on the web and has been picked up by Stefan Malloch on one of his youtube videos.
I did contact Viltrox back in May about this, and the screenshot below will show you their answer.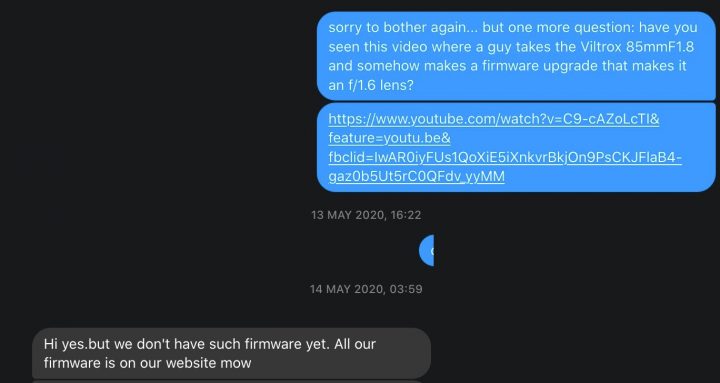 Dont' Do That
After Viltroxs' answer, I did decide maybe it is better to just ignore it, as I do not recommend anyone to download an unofficial firmware, which could potentially create problems to your lens. Or, when a new firmware with the same number is officially released, you might not be able to update your lens, as the lens will think you have it already installed!
But given that apparently the news spreads anyway, at this point it's better to address it on FR, too.
Is this Possible?

Now, it's not unusual, that lenses are actually potentially faster, than the manufacturer says. For example, the Fujinon XF-16-55mm f/2.8 aperture blades are closing down a bit, even when the lens is used wide-open at f/2.8, hence for the most part of its range the XF16-55 is potentially even faster than f/2.8.
This could be the case also with the Viltrox 85mmm f/1.8.
But even if it would be possible to unlock the extra 1/3 stop of light via firmware, I'd not do it, unless it's a final firmware officially released by Viltrox.
You can check out the videos below.
Join FujiRumors on Patreon, Facebook, Instagram, RSS-feed, Youtube, Flipboard and Twitter
Videos