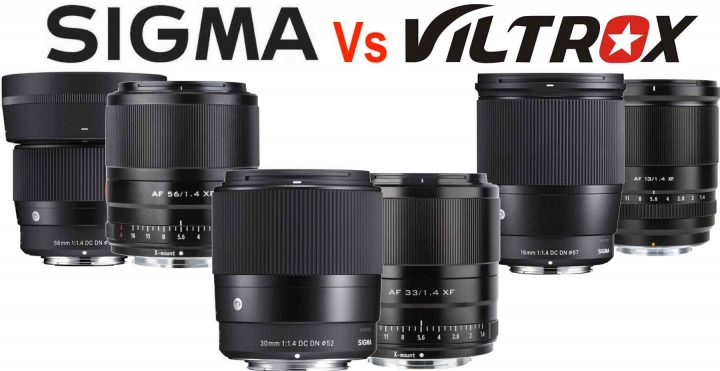 When we recently compared the upcoming Sigma X mount lenses to their Fujinon XF counterparts some people wrote me that the comparison is unfair, as the Sigma should be best compared to other third party AF lenses, mainly the Viltrox X mount counterparts.
So shall FujiRumors satisfy your desires.
Hence, once again I used the B&H Photo comparison tool to run over the specs and compare Viltrox to Sigma (I ignore the Tokina X mount trinity as those lenses are identical to the Viltrox lenses, just they cost more).
NOTE: This comparison is based on the rather reasonable assumption that Sigma will re-use the design of the current Sigma DC DN lenses and adapt its mount to Fuji X, rather than designing all new lenses with new optical design and ergonomics (hence add an aperture ring).
Sigma 16mm f/1.4 DC DN vs Viltrox 13mm f/1.4
the Sigma is 4,2% more affordable than the Viltrox lens
the Sigma is 3,5% lighter than the Viltrox
the Viltrox has better close focus distance capability (22cm vs 25cm)
the BHphoto Comparison Tool has not yet added the specs for the Viltrox 13mm f/1.4
At that wide range the difference between 16 and 13 is quite substantial, hence this could be called an unfair comparison.
Sigma 30mm f/1.4 DC DN vs Viltrox 33mm f/1.4
the Viltrox is 17,6% more affordable than the Sigma lens
the Sigma is just 1,8% lighter than the Viltrox
the Sigma has better close focus distance capability (30cm vs 40cm)
full specs comparison here (filter size, optical design etc)
Sigma 56mm f/1.4 DC DN vs Viltrox 56mm f/1.4
the Viltrox is 39% more affordable than the Sigma lens
the Sigma is 3,4% lighter than the Viltrox
the Sigma has better close focus distance capability (50cm vs 60cm)
full specs comparison here (filter size, optical design etc)
Gear Mentioned