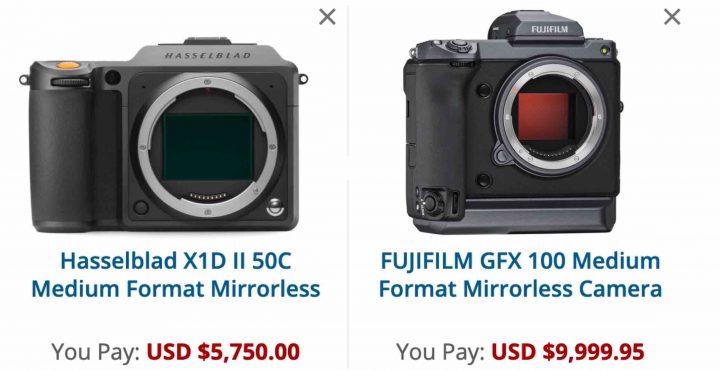 So, Hasselblad did it, and they announced the brand new Hasselblad X1D II 50C.
It comes with a good price tag of $5,750.
That's still more expensive than the Fujifilm GFX50R and Fujifilm GFX50S, but not that much. And it is certainly much cheaper than the Fujifilm GFX100, but the latter features a 100 MP BSI sensor and IBIS.
I am very happy that Hasselblad is going aggressive when it comes to pricing on the Hasselblad X1D II 50C.
But from here to say that the Hasselblad X1D II 50C is a Fujifilm GFX killer (as some said over at facebook and elsewhere) is a bit an exaggeration.
Usually, when you buy a camera, you also buy some lenses to go with it. And you always have to factor lenses into your investment, too.
So let's do it now:
Let's buy the Hasselblad X1D II 50C as well as the GFX 50R with 3 comparable GF and X1D lenses (not counting the current GFX discount).
with
with
with
The Fujifilm GFX kit will cost you $10,896, whereas the Hasselblad X1D kit $ 17,425.
You basically save about 40% by investing into the GFX system, and if you would buy today, with the current GFX deals, you actually save almost 50% over the X1D system.
And what about the Fujifilm GFX100?
Let's try the same combo:
GFX 100 + 3 lenses above = $ 16,396
X1D II 50C + 3 lenses above = $ 17,425
So even by buying the Fujifilm GFX100 and 3 lenses at full price, you still save $1,000 with the Fuji GFX system and you also get:
IBIS
much faster autofocus
100 megapixel
4K/30p video
twice as fast continuous shooting frame rate
BSI sensor with full phase detection pixel coverage
& more
There is one fundamental design choice Hasselblad made, that makes the X1D system always substantially more expensive over the GFX system: the lack of focal plane shutter.
This has 2 downsides:
you can't use cheap old legacy glass on the Hasselblad X1D
you have to pay for the leaf shutter every single time with every lens purchase
Guys, I am the first one to be happy about another player in the medium format market, that competes with Fujifilm. That's what we customers need: competition!
The Hasselblad X1D II 50C is a much needed and welcome upgrade to the orginial X1D. The faster processor will sort out quite some issues the first generation cameras had.
But the GFX system remains the by far most affordable option to go into medium format, and the new Hasselblad X1D II 50C hasn't changed that.
Fujifilm GFX 100: B&H Photo, AmazonUS, Adorama, Focuscamera
The GFX Community
Follow FujiRumors: Facebook, Flipboard, Instagram, RSS-feed, Youtube and Twitter