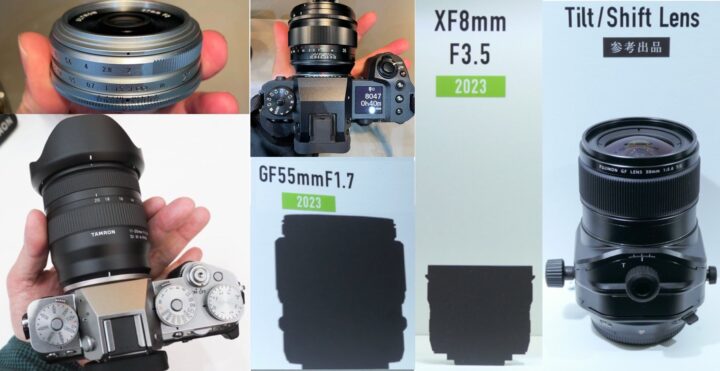 Fujifilm Digesting 2022
CP+ started today.
Fujifilm has not announced anything, but I guess we still have to digest all the stuff they launched last year, which was:
It's fair to give Fujifilm a little break, given how busy they were in 2022.
Fujifilm 2023 Teasers
GFX SYSTEM
What Fujifilm did for CP+, is to tease upcoming products for 2023.
They showcase a mock-up of the upcoming Fujinon GF30mm f/5.6 Tilt Shift lens, but not of the Fujinon GF110mmF5.6 Tilt Shift, which, according to the statements Fujifilm managers did during the September X summit, should also come in 2023.
They also show a silhouette of the Fujinon GF55mm f/1.7, which personally is the lens I am looking forward the most. We already shared hands-on images of the GF55mmF1.7 here.
X SYSTEM
For the X system, we get a silhouette of the Fujinon XF8mmF3.5.
The Fujinon XF8mmF3.5 became part of the Fujifilm X mount roadmap and during the X summit in May 2022.
Fujifilm did share technical sketches of the lens in May already, and we used them to compare the size of the Fujinon XF8mmF3.5 to other wide angle lenses such as the Fujinon XF14mmF2.8, the Zeiss Touit 12mmF2.8 and the Laowa 9mm f/2.8 (but the Laowa has no autofocus.
Third Party Lenses
But if Fujifilm did not launch anything at CP+, to make the beginning of 2023 interesting for Fujifilm shooters are third party lens manufacturers.
We have the lovely Tamron 11-20mm f/2.8, a couple of new Voigtländer lenses, the Samyang 75mm f/1.8 as well as Sigma 23mm f/1.4 coming soon and even a couple of new AF Yongnuo lenses.
Some of those lenses are at display at the CP+ in Japan right now and you can find the images below in this article.
I will share all images in this article and below you can find the link to the sources.
& More
Not only autofocus lenses. Also the recently announced Tokina SZ 300mm PRO Reflex F7.1 MF CF is displayed at CP+,.
Gallery