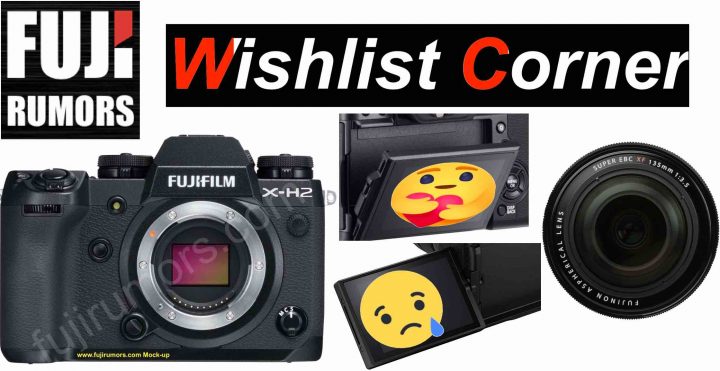 I apologize, because…
… I try and I think I succeed to reply to every single one of the 20+ emails and personal messages I get every single day.
However, not always I am able to give you the comprehensive reply you'd deserve, for a simple reason: time!
In fact, I have day job as a teacher and I run FujiRumors totally alone. Hence, in order to be able to reply to everyone with the limited time I have left, sometimes I just must give a shorter reply, even if often your emails would deserve a comprehensive answer.
Now, some of the most interesting emails I get, are those, with input, ideas and wishes for future Fujifilm products.
And since also to those emails, often I can't reply as comprehensively as I'd love to, I had the idea to share them with the entire FujiRumors community, and extend the discussion to all of you.
Last time we discussed:
read here – FR-readers Wishlist Corner: Fujifilm X-TSony, Firmware Upgrade Suggestions, Lens Wishes and Much More
Today I'd have selected a few more of those wishes.
So, if anyone reading this is interested, feel free to drop your thoughts in the comments.
You have wishes about the Fujifilm future, too? Well, then write me at fujirumor@gmail.com.
Have a wonderful weekend,
Patrick
Follow FujiRumors: Patreon, Facebook, Instagram, RSS-feed, Youtube, Flipboard and Twitter
Wishlist Roundup