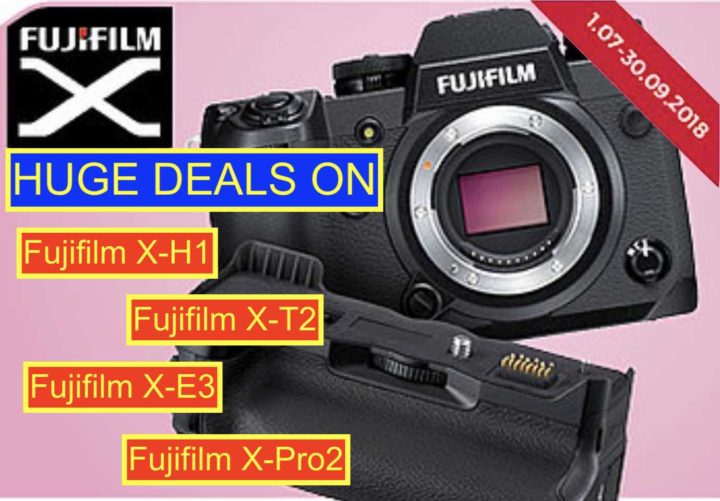 Fujifilm Deals
Fujifilm is getting ready for the next wave of big deals.
In fact the Polish Fujifilm page here already uploaded the list of gear that will get a huge discount from July 1 to September 30, 2018.
According to the Polish Fujifilm page, you will save between €200 and €300 on the following items:
Fujifilm X-H1 body only or with vertical grip
Fujifilm X-T2 body only or with XF18-55
Fujifilm X-E3 with XF23/2, XF35/2 or XF50/2
Fujifilm X-Pro2 with XF23/2, XF35/2 or XF50/2
Of course if Fujifilm Poland launches these deals, we can expect the same deals to be available in many other European countries, too.
And since this is evidently the big sell-out before the arrival of the Fujifilm X-T3 in September, I would not be surprised to see this sale offered also by Fujifilm North America.
But keep in mind one thing: the Fujifilm X-T3 will not have IBIS, so if you want all your (Fujinon or third party) lenses stabilized, then you have to go for the Fujifilm X-H1.
DON'T BE AFRAID to miss the deals. Just follow FR and you can rest assured that I will notify you the very same second that the deals go live via Facebook, RSS-feed and Twitter.
Fujifilm X-H1: BHphoto, AmazonUS, Adorama, Focuscamera
Fujifilm X-T2: BHphoto, AmazonUS, Adorama, Focuscamera
Fujifilm X-E3: BHphoto, Adorama, AmazonUS, FocusCamera
Fujifilm X-Pro2: BHphoto, AmazonUS, Adorama, FocusCamera