SURPRISE DEAL: Fujifilm USA Gives Away CFexpress Card to Everyone Who Bought (and Will Buy) a Fujifilm X-H2S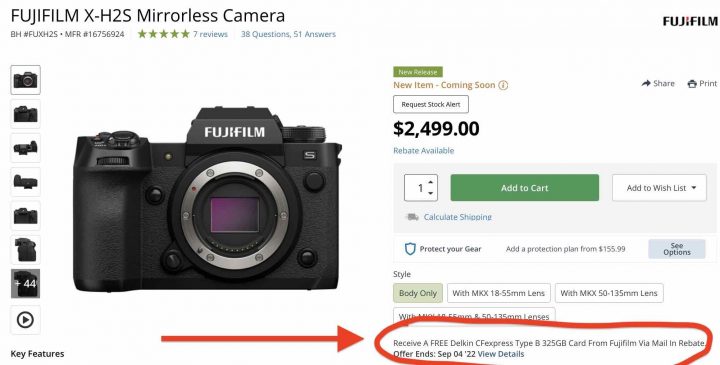 Fujifilm just launched a new deal on the Fujifilm X-H2S.
Those of you who purchases (or have purchased) a Fujifilm X-H2S between May 31 and September 4 (deal for USA), will get a free 325GB Delkin Black CFexpress card worth $400!
Here are the details in short (full terms and conditions below).
Make a qualifying purchase between May 31 – September 4, 2022
Submit your claim by October 2, 2022
Please allow up to 8 weeks for processing and delivery
A nice surprise for all those who already bought a Fujifilm X-H2S and now will get a CFexpress card on top of it for free.
Get Yours:
You know that Fujifilm has published a list of officially recommended CFexpress cards (you can see it below). The recommended ones all work fine on your Fujifilm X-H2S. However, for the best performance overall (longest bursts etc), Fujifilm recommends only these 4 card models. The Delkin Black in offer is one of these top four cards.
The Latest
Full Terms and Conditions
Terms & Conditions: The FUJIFILM FREE DELKIN CFexpress Type B 325GB card by Mail promotional offer applies only to purchases of the X-H2S digital camera body made by a U.S. consumer from an authorized FUJIFILM X Series dealer in the United States during the period of May 31, 2022, to September 4, 2022 (the "Promotional Period"), while supplies last. Offer valid with FUJIFILM X-H2S body purchases made at full retail price only; offer may not be combined with any other promotional offers. Valid on X-H2S body only; no product substitutions. Not applicable to back orders. Having purchased an X-H2S body during the Promotional Period, a purchasing consumer must fully complete the provided online registration form at www.fujifilmvalueoffers.com, providing personal information (including name and valid email and U.S. Street address (no PO Boxes)) necessary for shipment the free DELKIN CFexpress Type B 325GB card (ARV$399.00 + shipping). Uploaded copy of purchase receipt image AND an image of the cut out UPC code from the purchased X-H2S digital camera body box is required for offer redemption. UPC codes that are not clipped from the X-H2S body box do not qualify and will not be eligible for redemption. All claims for redemption of this offer must be received, with all referenced information provided and with uploaded images of X-H2S body purchase receipt and clipped UPC code, before close of business on October 2, 2022. Claims received after October 2, 2022 will not be fulfilled. Offered free DELKIN CFexpress Type B 325GB card is available only while supplies last, with fulfillment on a First Come, First Served basis.
If the offered DELKIN CFexpress Type B 325GB card item is no longer available, Fujifilm will provide a substitute, similar item equal to or in excess of the referenced $399.00 value. Limit ONE redemption, and ONE free DELKIN CFexpress Type B 325GB card, per X-H2S purchase. Within 4 weeks of receipt of proper, verified redemption claim, Fujifilm will ship the offered DELKIN CFexpress Type B 325GB card (U.S. addresses only) and email the redeeming consumer the applicable shipment Tracking Number. Allow 2 weeks from date of shipment for delivery. Fujifilm is not responsible for email or street address errors or for carrier, shipping or delivery issues, or for issues with the DELKIN CFexpress Type B 325GB card or alternative item provided. The DELKIN limited product warranty, or otherwise the applicable manufacturer's limited warranty, is the sole warranty applicable to the offered DELKIN CFexpress Type B 325GB card or other items provided in connection with this offer. Fujifilm reserves the right to modify or terminate this offer without notice at any time, and to disqualify any redemption claim that appears in Fujifilm's sole judgment to be incomplete or fraudulent. FUJIFILM North America Corporation, 200 Summit Lake Drive, Valhalla, NY 10595 is the provider of this promotional offer. Offer is void where prohibited.