Save up to $1,800 on Fujifilm GFX Gear, Topaz Photo AI 32% Off, eBook Deals and More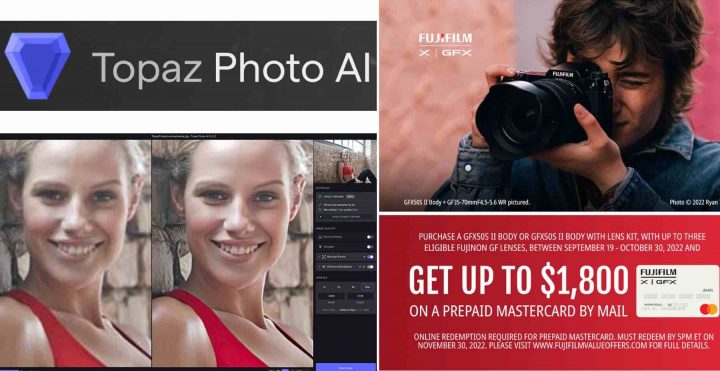 Topaz Photo AI
Topaz announced the brand new Topaz Photo AI APP (Click here to read all details). Use the coupon code "GETPHOTOAI" to save 32% on your order (launch discount + coupon code deal)! The deal runs until the 7th of October only.
Topaz Photo AI merges the incredibly efficient DeNoise AI, Gigapixel AI and Sharpen AI into one single software for a massive usability improvement! And in addition to that, Topaz Photo AI also offers new features like the full Autopilot mode.
For all details about Topaz Photo AI check out their dedicated page here.
Lightroom Classic Course
Fellow Fujifilm X shooter Andrew Gibson has just launched a Lightroom Classic course that's selling for $39 only this month. It's called "Lightroom Classic Secrets 2022" and gives you access to 25 lessons. You can read the topics of each lesson here. It comes with 60 day money back guarantee.
Capture One Hidden Features
Some sweet deals on Alexander Svet's (alexonraw.com) latest eBook called Capture One Hidden Features, 200+ Pro Hints ot Enhance Your Capture One Workflow.
Save 10% on the eBook only by using coupon code FUJIRUMORS.
eBook + Pro Color Grading Styles for Capture One (20% default discount + 10% discount with code FUJIRUMORS)
eBook + Pro Color Grading Styles + 100 RAWs for Image Editing Practice (30% default discount + 10% discount with code FUJIRUMORS)
Note that the code FUJIRUMORS works on all of his eBooks.
GFX Deals
Cashback Deals
Purchase a GFX50SII body or GFX50SII body with lens kit, with up to three eligible Fujinon GF lenses and save up to $1,800. To submit your claim click here.
One lens will give you $300 discount, two lenses will give you $900 discount and three lenses will give you $1800 discount. We have shared some sample offers at the very bottom of this article (but you can make your own combinations).
COMPLETE LIST OF QUALIFYING GF LENSES
Instant Rebate
Sigma X Mount Deals
Deals by Category
Brand Related Deals
Coupon Code Deal
All DxO Software
All Fujifilm Deals
Used Fujifilm Gear at B&H Photo
Used Fujifilm Gear at Other Stores
Officially Recommended Cards by Fujifilm
CFexpress Type B Cards
Out of all the CFexpress cards mentioned above, these are the cards without any compromise in performance at all:
For more details check out this article.
UHS-II SD Cards
Power Banks officially recommended by Fujifilm
Sample GFX Offers (but you can make your Own Combinations)