Resistance Is Futile :) :: Fujifilm X-Pro2 Best Seller at AmazonUS (#1 mirrorless camera)
We had to wait for the Fujifilm X-Pro2 to see a Fujfilm camera ranked first again. And according to the first reviews and samples, this is no surprise to me.
I'm getting weaker and weaker… I don't know if I can resist to the siren songs of the X-Pro2. It's the fist product since a long time, that was able to trigger my GAS that strong!
And the most comprehensive and amazing X-pert Corner First Look by Rico Pfirstinger of all times has yet to come… and it could possibly make any resistance futile.
P.S.: Sorry guys if my posts get a bit more personal these days, but I'm just excited about the X-Pro2… I'll try to come down again as soon as possible ;).
P.P.S.: You can win the X-Pro2 if you pre-order it at BHphoto. You will not get any notification that you joined the contest. BHphoto will simply track the orders that came via FujiRumors and then randomly select a winner.
Fujifilm X-Pro2: USA: BHphoto – Win $1,699 by pre-ordering at BH via FR* / AmazonUS / Adorama / EUROPE: AmazonDE / AmazonUK / WexUK / PCHstore / AmazonITA / AmazonFR / AmazonESP /   AUSTRALIA: CameraPro
* pre-order the X-Pro2 (body or kit) at BHphoto using the FujiRumors shoplink and you'll already have entered the sweepstakes. The lucky winner will get an Amex gift card pre-valued at $1,699.00. By joining this Sweepstakes, you agree with the Full Terms and Conditions. More detailed description of the Giveaway here.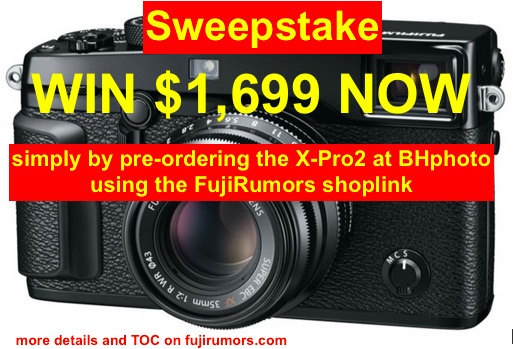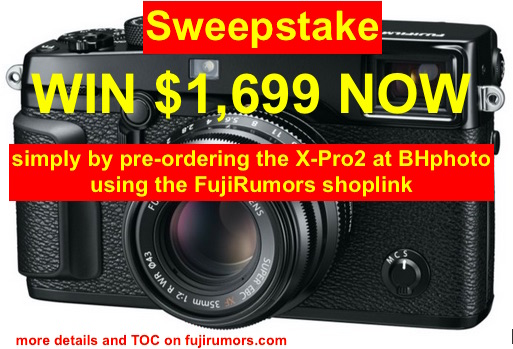 Fujinon XF100-400: USA: BHphoto / AmazonUS / Adorama / EUROPE: AmazonDE / AmazonUK / AmazonITA / AmazonFR / AmazonESP / PCHstore / WexUK / AUSTRALIA: CameraPro
Fujifilm X70: USA: BHphoto / AmazonUS / Adorama / EUROPE: AmazonDE / AmazonUK / AmazonITA / AmazonFR / AmazonESP / PCHstore / WexUK / AUSTRALIA: CameraPro
Fujifilm X-E2s: USA: BHphoto / AmazonUS / Adorama / EUROPE: AmazonDE / AmazonUK / AmazonITA / AmazonFR / AmazonESP / PCHstore / WexUK / AUSTRALIA: CameraPro