RAW Power adds Compressed Fujifilm RAW Support for MAC, Re-Worked Film Simulations and More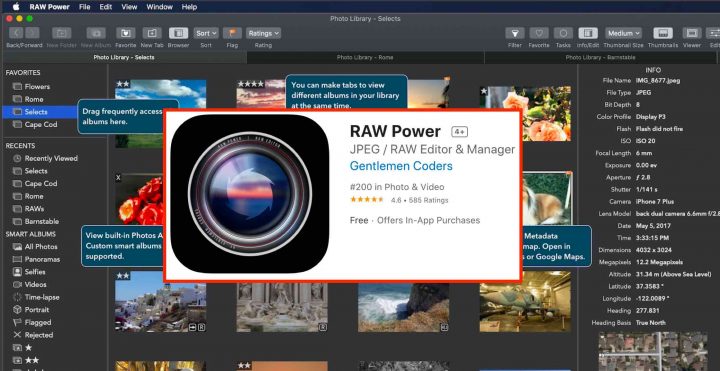 We already reported that very recently, Apple added uncompressed RAW support for the latest Fujifilm cameras.
This means Apps that use Apple RAW engine can now work with uncompressed RAW files of the latest Fujifilm cameras.
In that occasion, I also told you that my favorite App is RAW Power, which basically brings Aperture style interface and functions to the built-in Photos App on your Mac.
Well, the guys at RAW Power now went beyond of what Apple offers, by adding support for compressed Fujifilm RAW files, re-working their Fujifilm film simulations (developed in conjunction with Fujifilm shooters) and more.
Down below you can read all the details.
In case you want to download your version for Mac (free trial option), go to gentlemencoders here. For the Apple and iOS version go the App Store here.
What's New
*NEW* Unlimited Free Trial mode. All features are available except custom watermarks. Edited and exported images are watermarked with the app icon while trial mode.
*NEW* (iOS 14) Extended RAW Support for compressed Fujifilm RAWs, Go Pro, Olympus and many others. https://www.gentlemencoders.com/extended-raw/index.html
*NEW* Split Toning and Tint.
*NEW* Manual Lens Correction: Distortion, Devignette with semi-automatic mode.
*NEW* Purple and Green Fringe Removal.
*NEW* Support for Referenced folders in Files.app. (iCloud Drive and external drives are supported. However, folders on SD cards, file servers, Google Drive, Dropbox, or other internet services are not supported.)
* Import into folders for Files on iOS.
* Long press to Show Original image without adjustments.
Recent Versions:
* Completely reworked Fujifilm simulations, developed in conjunction with Fujifilm shooters.
* Fixes for shooting RAW+HEIF
* All Adjustments are visible by default. You can remove them from view by using the "…" menu in each adjustment.
* Significant quality improvements to the HSL adjustment.
* Add button to Settings to hide the Camera button.
* Fix bugs with the Send to RAW Power extension
* Fix bugs with externally edited images.
* New: ProRAW Editing: Edit your ProRAW files on iOS 14.3 or later
* New: Watermarking: Add text or an image watermark, with many options to control appearance
* Improvements to appearance of Curves and Levels
* Wider Curves and Levels in Portrait screen orientation
* Performance Improvements when importing from Files.app
* New: HSL Color Adjustment with 9 built in hues and a custom hue option.
* New: Edit either the RAW or JPEG of a R+J pair in the Photos library
* New: Export Original in batch and single image export.
* New: Import and Export Presets, so you can share presets between machines or between iOS and Mac.
* Much improved Export UI in single image and batch mode.
* Improved Crop and Straighten interface and usability.
* Improved filtering in Photo Library: Find RAW+JPEG files, filter by date, favorite status, and location status.
* Improved filtering in File Browser: Filter by date.
* Add cancel button in the Edit toolbar
* Speed up swiping in the Files.app view
* Speed up Auto White balance and Auto Enhance on tricky images.
* Add Reorder Adjustments to the adjustment menu in each brick
* Increase range of Deepen and Lighten.
* German and Traditional Chinese (Hong Kong) localizations
* Several user interface improvements and bug fixes
The Fastest Growing Fujifilm Group
Follow FujiRumors on Patreon, Facebook, Instagram, RSS-feed, Youtube, Flipboard and Twitter
Join Our Owners Groups
Join Our Facebook Pages