RAW Power 2.0 for Mac and iOS Released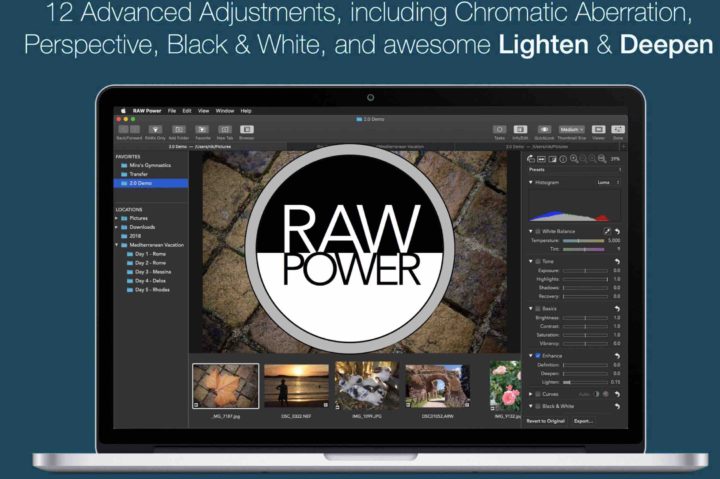 RAW Power
For those, who missed our original RAW Power article of February 2017 here, the RAW Power app brings Aperture style interface and functions to Mac Photos.
Now Nik Bhatt, former Aperture developer at Apple, has released RAW Power ver. 2.0. Down below the full list of new features and improvements.
Earlier this year, Nik also introduced the Lightroom plug-in for RAW Power, which allows you to access RAW Power directly from the Lighroom interface and do non-destuctive editing.
Full list of supported cameras here (no compressed RAW support).
LIST OF IMPROVEMENTS / NEW FEATURES / VIDEO TUTORIALS

New File Browser – browse folders on your disk, establish favorite folders
Multiple Browser Windows (View different parts of your disks at once)
Multiple Editor Windows (Open and edit multiple files at once)
Full Support for Tabbed Windows
Collapsible Panels
Thumbnail Grid
Control over thumbnail sizes
"Adjusted" and "RAW" badges in the thumbnail grid
Filter to show RAWs only
More metadata information including a map
Quick Look
Sort by Name and Date (newest and oldest)
Full Dark Look in macOS Mojave
New Metal-based image processing engine for better performance
New Adjustments
Enhance including Definition, and awesome new Lighten and Deepen sliders
Chromatic Aberration
Perspective
Black and White (a Monochrome Mixer)
Vignette with Controllable Center Point
All adjustments are 100% compatible with RAW Power for iOS and sync through iCloud Photo Library when using the RAW Power Photos Extension.
Batch Processing in the background:
Apply Presets
Paste of Adjustments
Revert to Original
Export with control over size, format, profile, and file naming
Background Processing Task View
For downloads check out RAW Power in the Mac App Store and at the gentlemencoders website here.