Proof of XF 33mmF1.0? :: Fuji X-Pro2 framelines preview shows "33"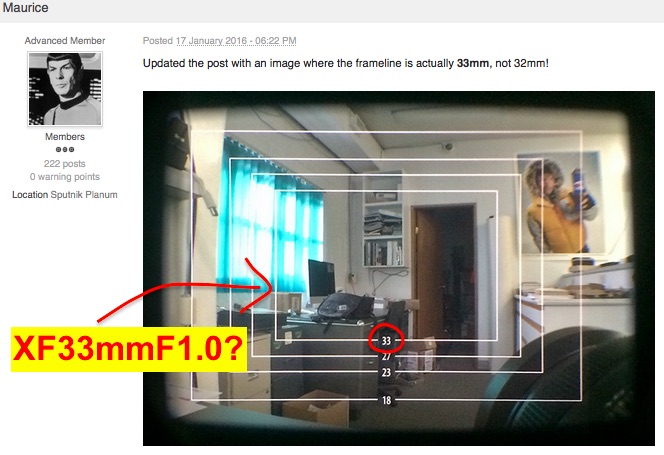 There is one rumored lens, that makes many X-shooter dream: the super-fast XF33mmF1.0.
The first rumor about this lens has been shared back in April 2015 here. Since then I've worked with my sources, trying to confirm it… and chances are actually very high to see it become real one day. A trusted source told us in October 2015 here, that the decision at Fuji's Headquarter is fallen: Fujifilm will make it (if Fuji doesn't change plans again).
But, of course, a lot of time will pass between a decision at Managment Level and the release of a new product.
And here is an update:
mikemander (who tested a prototype X-Pro2) published a picture that shows a 33mm frameline preview on the pre-production X-Pro2. Could that be the 33mmF1?
stay tuned on FujiRumors… who knows if FR-sources can give me an update on this soon… and if they do, you'll read it immediatly here on FujiRumors ;)
Fuji X Forum, Facebook, RSS-feed and Twitter
P.S.: thanks to the FXF community and the FR-readers, who told me about it at our Forum and via email
Fujifilm X-Pro2: USA: BHphoto – Win $1,699 by pre-ordering at BH via FR* / AmazonUS / Adorama / EUROPE: AmazonDE / AmazonUK / WexUK / PCHstore / AmazonITA / AmazonFR / AmazonESP /   AUSTRALIA: CameraPro
* pre-order the X-Pro2 (body or kit) at BHphoto using the FujiRumors shoplink and you'll already have entered the sweepstakes. The lucky winner will get an Amex gift card pre-valued at $1,699.00. By joining this Sweepstakes, you agree with the Full Terms and Conditions. More detailed description of the Giveaway here.