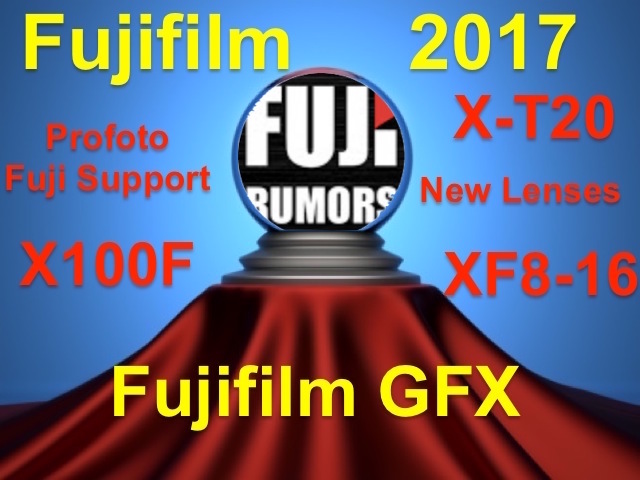 So, Photokina is over. The most important announcements have been done. So it's high time to put some order in the remaining rumors.
But first some facts:
650+ blog post published in 2016 so far
101 rumors shared in 2016
13 rumors still to be verified
81 correct rumors (+1 one more correct, but not in ranking. Read why at the bottom of this post)
8 wrong rumors (but actually at least 4 of them were right at the time of sharing. It's just Fuji that changed plans… that's the risk I pay for sharing early rumors, and I accept that)
91% correct rumors shared so far in 2016 (and it would be at least 95+%, if Fuji wouldn't have changed plans on some long term rumors)
And now… what to expect next!
I don't think Fujifilm will launch much more in 2016… but surprises are always possible. If I hear anything, I'll let you know.
In 2017 we should see the X100F and the X-T20. And of course the Medium Format Fujifilm GFX will hit the market. It's also rumored that Profoto will add flash support for X-series cameras. And maybe, so my hope (but not a rumor), after some small and compact weather sealed lenses (35, 23, 50, 80), Fujifilm will also work again on the long rumored 8-16, 33/1 and 200. NOTE: the 33/1 and 200 were rumored in 2015, so they are not included in the 2016 overview.
Sounds already now like a very interesting 2017… and I'm confident Fujifilm will surprise us with something more. Stay tuned on FujiRumors to find it out.
My deepest thanks goes to all sources, who helped me a lot and reached a level of accuracy that is almost scary for a rumor site… I really would like to hug you all :-)
Also, thanks to everybody, who spotted some interesting Fuji related news/rumor/deal/review on the web, and took his/her time to drop me an email with the link to it. Much appreciated… and feel free to keep it up. ;-)
HIGH RATING*
* 75% to 99% correct
– Fujifilm X100T Successor to be Released in 2017 (shared July 28)
– Profoto Will Add Support for Fujifilm X Cameras in 2017 (shared September 12)
– Fujifilm X-T20 Coming in 2017 (and not at Photokina) (shared Septmeber 17)
– Fujifilm X-Pro2 Firmware Coming October 6 (shared September 29)
– Fujifilm Will Release a Dark Grey Fujifilm X-Pro2, probably in 2017 (shared September 30)
MEDIUM HIGH RATING*
*50% to 74% correct

– Fujifilm will develop a XF 8-16mmF2.8 WR lens! (shared 26 May 2016)
– Fuji X100T Successor still with 23mm lens!
– No X-E3 in 2016 (shared February 2, 2016)
– Fujifilm working on a XF200mm… F2 (!) lens (shared Feb.5 2016)
– Fujifilm Global Shutter Camera coming in 2018 (at the earliest) – (shared Mar 14, 2016)
– Fujifilm X-T1 will get one more (and final?) Kaizen Firmware Update This Year! (shared 13 Mai 2016)
MEDIUM LOW RATING*
*25% to 49% correct
– Fuji X100T & Kaizen Love? High Chance of Firmware 2.00 for Fuji X100T (shared February 11)
– The Fujifilm X100T Successor Will Be Called Fujifilm X100F (shared August 31)
LOW RATING*
*1% to 24% correct

Push READ MORE for the 2016 Rumor Check