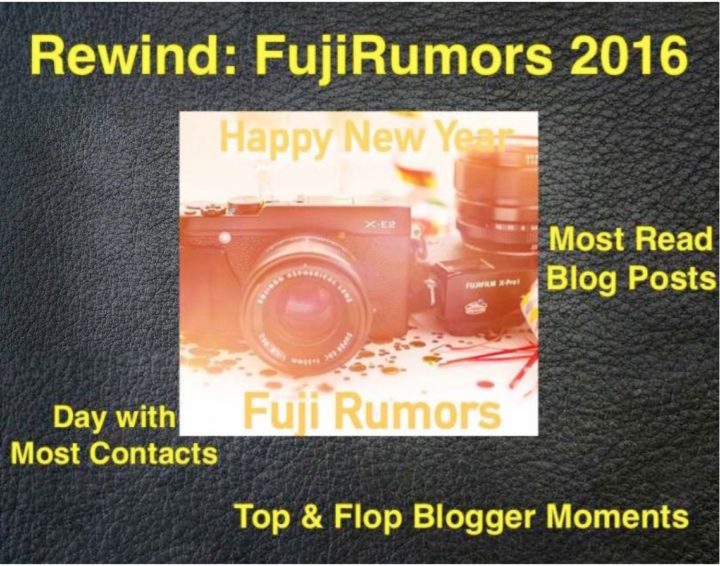 It's done… another Fuji Year is over. I hope I could give you some fun moments in 2016, even though you had to go through a total of 860 articles written in my crappy English ;) .
I've tried to give my best, also in my personal email exchange with you (gmail says that I'm now reaching 4,700 emails written in 2016… not counting the easily 1,000+ private messages on Facebook and Twitter).
You can be sure that I'll put all my passion/fun/excitement (and a lot of time) into this blog also in 2017, in order to make your time here on FujiRumors the most informative & exciting as possible.
A wonderful, healthy and fun 2017 to everybody out there… and may you capture many great moments with your X (or G)-series camera :)

Fuji X Forum, Facebook, RSS-feed and Twitter
2016 on FujiRumors
Top & Flop Blogger Moments
TOP Blogger Moment 2016:
Going to Photokina was, by very far, the highlight of my year. I was undercover, hence 100% anonymous. And I liked it this way. I could watch all the Fujifilm X-photographers, like Kevin Mullins, making their speeches and stage performance, I salivated on the window that protected the GFX, tested out some lenses that I never had the pleasure to play with (like the XF100-400), and I was able to do all this without Fujifilm kicking me out of the booth… wonderful :). And… I have never seen so many X-shooters on one spot, all together, sharing my same passion, with the Fuji X photowalk at the end of the day being the final touch on the top of a wonderful day. I could have stayed there the whole week, but sadly, I had to go back teaching (with some evident difficulties, though ;)).
FLOP Blogger Moment 2016:
When a trusted source informed me the Fujifilm X-T2 will come in early July (and not in June like originally planed), and I had to cancel my trip to Iceland in order to be able to cover properly the announcement as well as the busy time after the announcement. S*it happens. Next time, Iceland :)
Top Articles of 2016