_ _ _
I can feel it…
I feel the lightness, I feel the happiness, I feel the promise of endless possibilities and more time (finally!!) to go out and shoot… or in short: School Is Almost Over, Holidays are Near (ok, apart from FujiRumors, that, don't worry, will run non stop as always, wherever I'll be ;) .)
Ok, time to organize my travel and to think what I should not miss to bring with me. Of course, my X-T1 and a few lenses (not more than 3!).
But what else could I need?
I've checked out the various topics on our New Fuji X Forum, and found some interesting stuff, good for travels, that I would like to share also on FujiRumors.
POWER ADAPTER FOR FUJI'S BATTERY CHARGER
shared by FXF Member Prabbit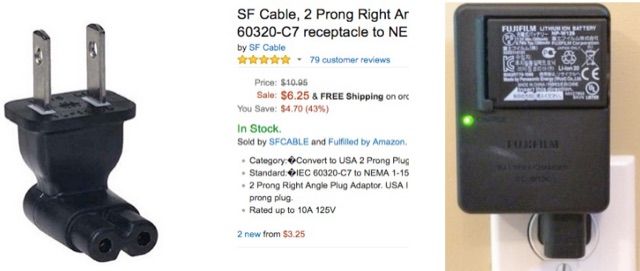 Why take that cable on holidays? Let's get rid of it. FXF Member Prabbit bought this little cool Adapter for $6.25!
For other solutions, check out this thread at the FXF!
PHOTOGRAPHY BOOKS
shared by FXF Member FearTheXNoob
FearTheXNoob asked for some photography Books to read on vacation. The FXF community recommended, among the others:
– Dan Winters – Road to Seeing
– Zack Arias – Photography Q&A: Real Questions. Real Answers
– Bruce Barnbaum – The art of photography
– Ansel Adam's – The Negative
– Galen Rowell's – Mountain Light: In Search of the Dynamic Landscape or Inner Game of Outdoor Photography
For more book recomandations, visit this FXF thread… and feel free to drop your own tips.
TRAVEL PHOTO BACKPACK
shared by FXF Member photog
Just a few recommendations, starting from the one of FXF Member photog:
– Lowepro Photo Hatchback 22L AW
– MindShift Rotation
– Urban Approach 15 Mirrorless Backpack
More nice bags in this FXF thread here.
UNDERWATER HOUSING OR BAGS
shared by FXF Member Mike B
FXF Member Mike B asked: "Has anyone had experience with gear to allow the use of an X-T1 underwater?" The suggestions came in, from the Ewa Marine DB bag to the Meikon 40m/130ft Underwater Waterproof Camera Housing for X-T1! More suggestions in this FXF thread.
FUJIFILM INSTAX SP-1 PRINTER
shared by FXF Member Koban
I can't recommend the little Fujifilm SP-1 Printer enough! There is dedicated thread at the FXF about it, with some feedback of X-shooters, who used it in their travels… a MUST HAVE!