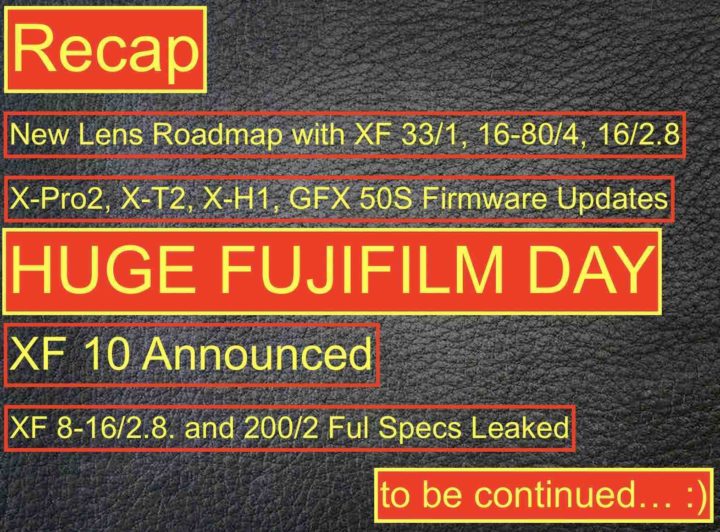 A Huge Fujifilm Day Needs a Huge FujiRumors Recap
Lucky me that I am on holiday in South Italy, Tropea, right now… because here coffee is super strong, cheap and delicious… and I take tons of it in these days, to survive the immense and sleepless live blogging and rumors.
Yes, I know, in theory this should be my holidays, a travel through France and Italy that you can follow on Facebook, Instagram and Twitter
But I canceled all my planed day trips, island hopping boat tours, the sunset/sunrise photographing, and I will remain locked in my room with my 3G hotspot to deliver you guys what you deserve: the best Fujifilm coverage in the known universe ;)
It's just an fun moment to be a Fujifilm shooter, and in the last 24 hours a lot happened.
So I thought it's time to give you a quick summary of what happened, just in case you tuned in on FR only now, or in case you are confused by all the articles.
NEW LENS ROADMAP
You might remember how 1.5 years ago, I asked you guys what you would like to see next from Fujfiilm. I got several thousands lens suggestions, and I worked day and night to sum up all your ideas into 30 lenses.
And then over 15,000 of you voted, and the result was clear
most wanted zoom: XF 16-80mm F4
most wanted prime: XF 33mm F1
Of course I knew Fujifilm will take note of our wishes. But not only they took note, the copied them 1:1, so now we will get them both… plus one more, the XF 16mm F2.8, which I think is mainly ment to be a fine Vlogging lens. Now I wonder… does Fujifilm really read your comments and look at your poll votes ??? ;)
So here is the magic trio that will be soon part of the roadmap.
XF 16mm f2.8 R WR
XF 16-80mm f4 R LM OIS WR
XF 33mm F1 R WR
For the latest roadmaps rumor coverage, check:
fujirumors.com – Fujifilm China Leaks Press Release of New XF Roadmap
fujirumors.com – Fujifilm's New Lens Roadmap: XF 16mm F2.8, XF 16-80mm F4 and XF 33mm F1.0
fujirumors.com – Fujinon XF 200mm F2 Shipping in October and XF 8-16 Available in November
THANKS TO ALL OF YOU GUYS… because
…together we worked very hard for the lens wishlist, and your fantastic feedback and massive participation to this blog (and pressure on Fujifilm thanks to your poll votes), made the XF 33mm F1.0 and XF 16-80mmF4 come true.
You can get the complete XF 33mm F1.0 FULL FRAME KILLER Recap here.
FUJINON XF 8-16mm F2.8 and XF 200mm F2 Specs, Images, Price & Press Release
Speaking of lenses, there will be soon the official annoncement of the Fujinon XF 8-16mm F2.8 and XF 200mm F2. It's a separate announcement to the XF10 (still in July), and of course you must follow FujiRumors, if you want to get the news as soon as it happens. Hence make sure to follow us on Facebook, RSS-feed, Instagram and Twitter.
Much has already been leaked:
The LENS LIVE BLOGGING on FujiRumors will start 0,01 seconds after the official announcement. I will be ready ;)
NEW FIRMWARE
The following cameras got a new firmware: Fujifilm X-Pro2, X-H1, X-T2 and GFX 50S
Fujifilm also announced a new firmware coming in August for Fujifilm X-T100 and X-A5
Fujifilm XF10 Announcement
You can now pre-order the Fujifilm XF10 at BHphoto, AmazonUS, Adorama.
We have the XF10 announcment covered in-depth in our Fujifilm XF10 Live Blogging here.
MiXed Stuff
Due to the massive article uploads in the last days, you might have missed the following hot discussed topics on FujiRumors
Facebook, RSS-feed, Instagram, Youtube and Twitter.
Ok… maybe I manage to get at least one blue hour shot of Tropea tonight… this could be a good spot, or not? Any other X-shooter here tonight?
SOOC