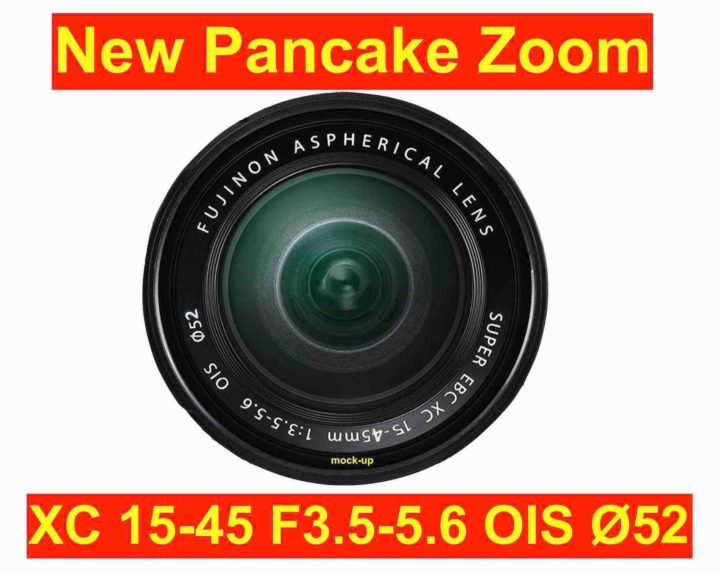 New Fujinon XC15-45 Pancake Zoom
Hey guys,
Let's start this week with a nice rumor, giving you all the core specs of Fujifilm's rumored XC 15-45 lens… and here they are:
XC 15-45mm
Pancake Zoom
F 3.5 – 5.6
OIS (optical image stabilization)
Power Zoom
Filter Thread Ø52
Coming soon ;)
OIS: Yes, XC are slower that XF lenses, but also the little XC15-45 will have OIS, and given Fujifilm's class leading optical image stabilization expertise, we can expect it to work fantastic also on this new pancake zoom, making the XC15-45 very usable also at slower shutter speeds.
FILTER THREAD: The filter thread –  Ø52 – is the same of the XF18mm and XF35mmF1.4.
POWER ZOOM: No manual/mechanical zoom on this lens. There will be a power zoom, meaning your will control electronically the zoom (remains to see if via button or ring, I don't know this at this moment). We have to see how well this works in real life and how responsive and precise it is.
XC15-45 Vs. XC 16-50: The XC15-45 will have the same F stop and almost the same zoom range of the XC16-50mmF3.5-5.6, but will be significantly smaller. I can see XC16-50 sales drop considerably, after the announcement of the XC 15-45mm F3.5-5.6.
XC Lenses, any Good?
Fujinon XC lenses are optically wonderful lenses.
The only thing that differentiates them from XF lenses, is that XC lenses are slower and made more out of plastic, in order to contain production costs.
But in terms of image quality, theses XC lenses are terrific value for the money and fully honour their "Fujinon" family name :) .
Perfect Travel Companion for X-E3, X-A5, X-T100 & Co
If you remember, we had a discussion here on FujiRumors back in November 2017 about pancake lenses.
In fact, given the compact size of the X-E3, but also other Fujifilm cameras like the upcoming Fujifilm X-A5 and the Fujifilm X-T100, some of you thought that it might be time to expand Fuji's pancake lens line-up, which currently consists only in the XF27mm and XF18mm.
Also back in November, I already gave you a little hint, by telling you how I would like to see something like the Panasonic 14-42mm OIS pancake, a lens I owned before I switched to Fujifilm many years ago.
Well, now the XC15-45 is coming, and I think that's great news for all X shooters, who are looking for the ultimate compact and flexible travel lens.
So, I personally highly welcome the addition… and what about you? Let's try to find it out with a quick poll.
And make sure to follow us on Facebook, RSS-feed and Twitter... because more rumors are coming :)
have a fantastic start in your week,


Loading ...