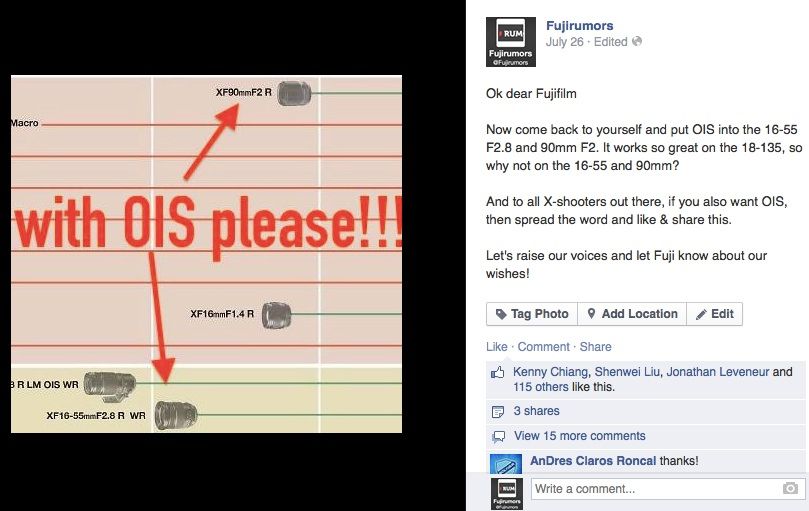 Back on the 24th of July (I remember the date, because I worte that specific article while sitting at the back of a rented car between 2 hyperactive kids during my holidays in Tuscany… believe me, a real challange to write it ;-) ), Fujifilm updated the lens roadmap, and, amongst the others, they told us that the XF 16-55mmF2.8 release had been pushed back to spring 2015… and it will be without "OIS".
Now we have some more information about this lens, shared at the latest issue of the Fujifilm X-magazine (and spotted by attentive FR-reader Dan R Smedra – thanks for sharing at the FR facebook page)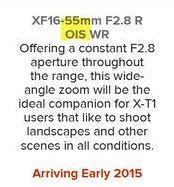 First: we now have a slightly more precise indication of the release of the XF16-55… it will come "early 2015" (so I'd exclude May/June, and guess it will come around March)
Second: As you might or might not know, the latest official stamtent from Fujifilm (made in September at photokina) confirms, that the XF 16-55mmF2.8 will NOT feature an optical image stabilization (OIS), because of weight/IQ reasons. Many X-shooters were astonished by this news, especially since Fujifilm is right now explaining us that the 5 stop OIS in the XF 18-135 WR lens and 50-140 f/2.8 lens works miracles (and apparently it really does)! I've launched various polls here on FR and shared posts on facebook… and it's pretty clear that the majority of X-shooters do want OIS.
Now, I don't know if it's just a typo or if Fuji changed plans, but according to the latest edition of Fuji's official X-magazine, the XF 16-55 will feature OIS (and come early 2015, as said before). I really hope that this is not just a typo.
stay tuned

Facebook, google+, RSS-feed and twitter

Loading ...

Loading ...