New Luminar 2018 with Sky Enhancer Tool available for Reduced Price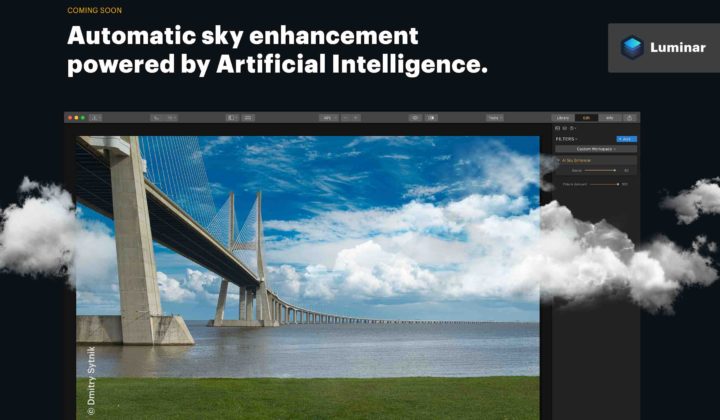 Today Skylum launched the new Luminar 2018 with Sky enhancer tool. For a limited time you get this package with a $10 discount using our code "FUJI" and extra Bonuses (see list below). And in December you will get the Libary tool for free too.
Pricing
New users can purchase Luminar 2018 for US$59 ( US$49 with coupon code FUJI)
Current users of Luminar 2018 will be able to update for free
Current users of Luminar 2017 can upgrade for US$49 ( US$39 with coupon code FUJI).
Current users of a Luminar 2018 trial (those who have downloaded it before November 1) can purchase Luminar 2018 for US$49 ( US$39 with coupon code FUJI).
Owners of Skylum legacy products (Creative Kit, Noiseless, Intensify, Tonality, FX Photo Studio, Focus, Snapheal, Filters for Photos) can purchase Luminar for US$49 ( US$39 with coupon code FUJI).
Bonuses:
ViewBug: 3-month Pro membership ($42 value)
KelbyOne: 2-month Pro membership ($40 value)
Rocky Nook: Choice of ANY e-book ($40 value)
Daniel Kordan: Awesome Landscapes Tutorial ($29 value)
Manfrotto & Gitzo: $20 gift card on any $120 purchase ($20 value)
AI Sky Enhancer: More Than an Innovation, It's a Breakthrough
Skylum has released a free update to Luminar that brings AI Sky Enhancer, designed to add detail and drama to the sky with just one slider.
Bellevue, WA, November 1, 2018 — Skylum Software today released a free update to its award-winning Luminar photo editor and presented the AI Sky Enhancer filter. Developed in the company's AI Lab, AI Sky Enhancer adds depth, definition, and detail to any sky almost instantly, with only a swipe of a slider.
AI Sky Enhancer is a revolutionary new tool for automatically enhancing skies and making them beautiful without the need for masks and layers. This will save photographers an enormous amount of time in post-processing while allowing photographers of any skill level to achieve dramatic skies.
Hundreds of thousands of photos incorporating varying degrees of tonal skies were used to train a deep neural network that powers the AI Sky Enhancer filter and allow Luminar to analyze each image and detect (and adjust) only the sky. The result is complete automated control of the sky. AI Sky Enhancer works with sunsets, blue skies, partly sunny skies, storm clouds, and virtually any other sky scene imaginable.
"And while this update is great by itself, it's just the beginning. Luminar now includes an innovative core neural processing engine that enables all Luminar users to harness the power of AI. This will give the Skylum team the possibility to introduce more smart and automated tools more frequently," explains Dima Sytnik, CTO and co-founder of Skylum. "Expect more innovative AI-powered features in Luminar in the near future."
The new AI-powered filter comes ahead of Luminar 3 with Libraries, which will start being rolled out to Luminar owners on December 18. Skylum has made the unprecedented decision to include every new feature of Luminar — big and small — at no additional cost to current Luminar 2018 owners until late 2019. This will include Luminar 3 with Libraries, which will allow photographers to organize, browse, and edit images on the fly. Additionally, Luminar customers don't have to pay an annual subscription fee.
New and current users of Luminar will also receive a value-added promotional package including a three-month Pro Membership to ViewBug ($42 value), a two-month Pro Membership to KelbyOne ($40 value), a choice of any ebook from Rocky Nook ($40 value), the Awesome Landscapes Tutorial from Daniel Kordan ($80 value), and a $20 gift card toward the purchase of any Manfrotto/Gitzo product valued at $120 or more.
Luminar is available to new customers for just $59/€59/£53. Current users of other Skylum software including Aurora HDR, Photolemur, and Skylum legacy products can purchase Luminar for the special price of $49/€49/£44.