New Fimware Update for X-T10 released! Improvements + Windows 10 compatibility. Other X-series cameras udpated soon!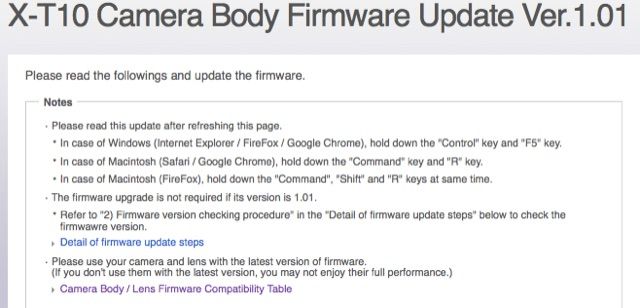 The compatibilty problems of Fuji X-series (and Finepix cameras) will be solved very soon via Firmware update. The Fujifilm X-T10 makes the start. The new Firmware ver 1.01 is now online here, and it also brings some improvements. Here they are:
– Improvement of "Eye detection AF" speed when used with XF90mm
– Operational improvement of Fn1 Function button (Default setting : movie shooting)
– Angle difference between jpeg image and jpeg image converted from RAW file
– Support for Windows10
And here is when then other cameras will get the FW update (for the press-realease click here): By the end of Aug 2015: X-E2, X-A2, X-Pro1, X100T, X100S, X30, X20 and XQ2. By the end of Dec 2015: X-E1, X-M1, X-A1, X100, X10, XQ1, XF1, X-S1.
A kind request: if, as usual, you find news via FujiRumors and want to repost it on your websites, it would be very kind if you'd give me credit for my daily and hard work to search these news… it's easy… all you need to do is to put a working link to "via fujirumors.com".
stay tuned.

Fuji X Forum, Facebook, Google+, RSS-feed and Twitter