miXed zone: Full Frame madness, XC 50-230: the forgotten one and more!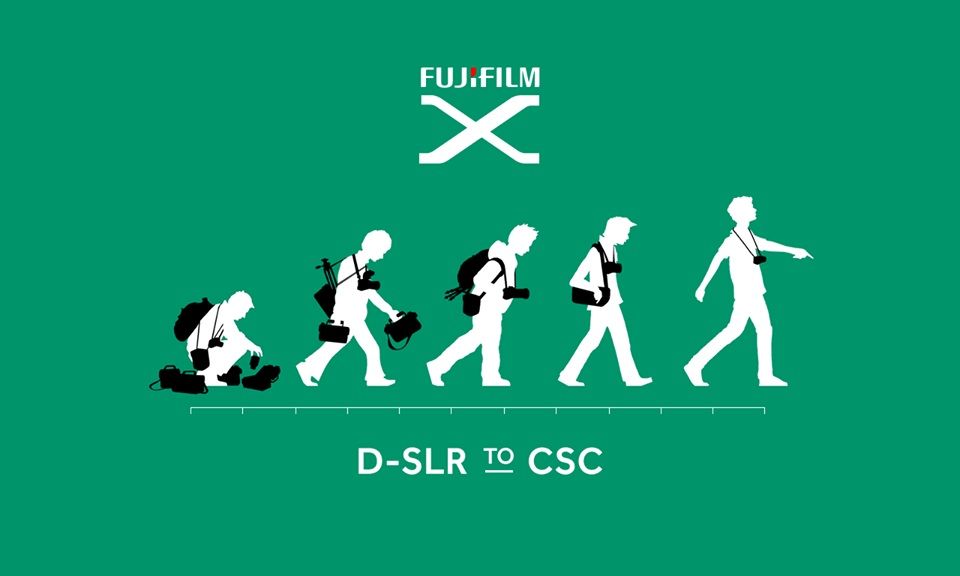 image courtesy: FujifilmUK
APS-C or FF
– Solving for X: Algebra of the Fujifilm X-System at entropicremnants here: "Fujifilm is now an incredible player – though still small in sales – in the mirrorless camera market. […] Fortunately, Fuji hasn't been bit by "full frame madness" and will continue to develop the existing X-line as APS-C for awhile. I was happy to hear that as I believe it would dilute the development of the existing system. […] X-Trans sensor is sharp, sharp, sharp. Perhaps a better way to say it is that is has very high acuity with the X-Trans CFA and no anti-aliasing filter at all – though you may need to learn some new tricks to get the most out of the sensor in RAW. […] So to wrap this up a bit: what you have in the X-System is a versatile and totally useable system with absolutely extraordinary image quality and a way of operating that is unmatched by anything short of a Leica – and maybe not even by that."
– Boyd Johnson explains at his blog lumahouse here why Fuji should NOT go FF: "Fuji has a killer lens lineup going. It seems like every lens they launch for the x system receives high praise. […] Personally, I think Fuji has a fantastic balance of size, handling, and IQ. Sure a bigger sensor could do more, but is it really necessary? Is it worth sacrificing so many other aspects which make the x cameras such good cameras and really contribute more to the photographic process than outright image quality and lines per millimeter measurements? I would question the value."
Sony A7r vs Fuji X-E2 / Canon 5d III vs Fuji X100S

– FR-reader Tom Grill couldn't resist to the temptation to compare the two hot cameras of the moment. So here is his contribution to the "unfair comparison" series. Here is what he told me via email: "I did an experiment with files from an X-E2 and Sony A7r where I equalized the final image to see if the Fuji could actually approach the results of a full frame, 36mp high end camera.  I think the results are astounding .  You might want to share it with your viewers Here's the link to the post." Here an extract.
"The point of this exercise was not to see if one camera was better than another. Instead, I wanted to see if the Fuji X-E2 with its handicap of smaller sensor and lower megapixels could approach the level of a top full frame model. You can judge the results for yourself by downloading the images above. As far as I am concerned, the Fuji X-E2 came through like a champ."
– Canon 5D Mark III versus Fuji X100S at KenRockwell here: "I don't call the Fuji X100S the world's best digital camera for nothing."
X-E2
[shopcountry 17992]

 – APS-C? It's enough! And 16MP? Also enough, according to what Fuji Manager Mr. Kawahara said in this interview here.  Nonetheless, as customers demand for more, Fuji will put sensors with more MP in future cameras. Stanley Leary agrees with Kawahara and writes in his article Can the Fuji XE-2 16M sensor do the job for a working pro? here: "From my perspective it would be a rare moment that any of my clients would ever need anything with more megapixels than this camera gives me. […] The Fuji XE-2 exceeds the needs of my clients right now. It is a camera I am shooting now for corporate jobs."
– Fuji; Out in the Cold at donovanbond here: "It was cold there. Real cold. The temperature was as low as -28˚C, and colder with the windchill. It was cold enough that after ⅔ of the day, our iPhones would shut themselves down while trying to take pictures, even with around 60% battery. My Fuji X-E2 wasn't even phased by it."
– Thumbs Up EP-9S for the Fuji X-E1 and X-E2 Review at ledesmaphotography here: "Yes, the Thumbs Up EP–9S for the Fuji X-E1 and X-E2 is a transformative accessory that will provide you with many years of pleasurable shooting and just being more confident you can down to those lower shutter speeeds handheld because you simply have a better grip on your camera and all this translates to more stability."
– Extension of the Mind at draigphotography here: "So, with CES bringing no new options I bought the XE2 to accompany the X Pro1. […] The focus speed is most definitely improved. Good light, well all the range focusses amazingly after the multiple firmware upgrades Fuji continues to implement (are you listening Canon, Nikon et all? shame), but the focus in less than ideal light, wow!"
– First shots with my Fuji X-E2 at mingart here: "On my way to work I took a chance to try my new Fuji X-E2 mounted with the awesome 35mm/1.4 lens. I returned my X-Pro1, which I bought in September to get the smaller X-E2. So I am used the the Camera already."
– This is truly an amazing camera! Bravo to Fuji ! by utku67 at dpr: "So finally my message to the X-E1 owners: If you have some doubts about upgrading to X-E2, don't think a minute, it is really worth while doing it."
. Fuji X-E2 AF Settings at stanleyleary here: "There is a learning curve with every new camera I get. Changing to another brand increases the learning curve a great deal. Auto Focus with the Fuji X-E2 has been a challenge for me due to the learning how the camera works the best. This was true with me learning all the settings for my Nikon D4. When shooting sports I used a totally different AF settings than for normal photojournalistic shooting that I normally am doing with storytelling style I use."
– X-E1 vs. X-E2… since you asked at markschuelerphoto here: "So, really, which is bet­ter? As I men­tioned, the aut­o­fo­cus is markedly faster and surer. For me, hav­ing +/- 3 stops of expo­sure com­pen­sa­tion (vs. +/-2 on the X-E1) is a big deal, and makes my life eas­ier. Hav­ing stiffer dials is nice, and means you are less likely to change set­tings while car­ry­ing the cam­era or putting it in and tak­ing it out of your bag. The loss of the View Mode but­ton on the X-E2 is extra­or­di­nar­ily irri­tat­ing. The Wi-Fi is fun to play with for post­ing pho­tos on the fly, but not some­thing I con­sider a 'must-have.'"
– Some X-E2 shots at byjansen here.
– X-E2 video review here.
– Polish review at fotopolis.pl (translation).
XF 23mm
[shopcountry 16128]
– The World's Quickest Lens Review – Fuji XF 23mm 1.4R at fstoppers here: " […] this lens is beautifully crafted, operates brilliantly and delivers outstanding image quality.  It's like the holy trinity. Yes it's $899 plus tax but in terms of value – it scores big."
– Street – Fuji 23mm f1.4 – Colour or B&W? at 35mmstreet here: "I'd love to here what you think. Do they all look better in colour? Do they all look better in B&W? Or does it depend on the individual photo?" For his article "Anatomy Of A Street Shot" click here.
– Some shots at neillsoden here: "The 23mm is a really good lens, the build and image quality is outstanding."
X100S
[shopcountry 12883]
– shared via FR-twitter by jasonpitcher, Fuji X100S – the kit I use, here: "The reason for this camera's existence in my world is that I need something small and portable when I don't want to, or its impractical to, drag my main DSLR kit around. So anything I add will have to fit this minimalist theme."
– Only shots taken with my Fuji X100S Camera at marcobozzato here. (and if you are located in Italy, join the facebook group fujixclubitalia here)
– Video on demand from korea TV (for the low-res video no registration is needed)– go to LIFE IN OCEANS EMBRACE magnum / national geo photog David Alan Harvey on assignment, using his fuji X100S. See the video here.
– Jeku Arce Photography: "Hi Patrick. Wanted to share with you my experience with the Fujifilm x100s. The one thing with this camera in the 9 months that I've found is that there is always something new to try with it. This camera pumps me up!" See his review here.
– "The fuji x100s a.k.a poor man's leika, Hipster hip shooter, Langhorns little lover etc is an amazing camera! A blast from the past with digital refines that simply makes photography fun and professional!" See the shots here at januslanghorn.
– "My New Toy: The Fuji X100s" at floriansphotographs here: "An ideal camera (1) has excellent image quality, (2) is very portable and (3) is highly flexible. Again, pick two! My solution is to keep my DSLR system [(1) & (3)] and get a second, portable camera [(1) & (2)]. The X100s fits the bill perfectly. Moreover, it is very pretty, so even my finance minister approved of the purchase."
– Getting Cosy with the Fuji X100s: Thoughts & Gallery from Lyon, France at mirrorlessons here: "I discovered that the X100s is actually a very straightforward camera to use as long as you understand the basics of photography. Yes, you'll find fewer features on the X100s than on a Lumix, Olympus or Sony camera but in its simplicity, you rediscover the pleasure of shooting."
– Fujifilm OVF | focusing with the X-PRO 1 and X100S part 2 at vopoku here.
– X100S Vs. Nikon Urban Myths at rwboyer here. The Fuji colors? Pure myth, according to rwboyer: "I've mentioned this a few times but let me repeat it for those that might not have heard it. The biggest difference in color between cameras is going to be white balance – end of story."
– (shared on the FR-facebook wall) Knowing your gear, part iii at fauland-photography here or how to Maximizing Focus performance on the X-Pro1 / X-E1/2: "In any situation where I have to concentrate on the timing in order to capture the 'perfect moment', I prefer to use (semi-)manual focus instead of fighting with the AF. First step: Switch your camera to manual focus with the little lever on the front (*). Second step: Go to sub-menu four in the camera menu and set the AE/AF-LOCK MODE to 'switch' and the AE/AF-LOCK BUTTON to 'AE+AF'."
– Wedding photography with the Fuji X100S at handcarryonly here: "I am confident that mirrorless is the direction the majority of camera technology will go over the next few years and certainly even with the current crop of models, the cameras are not the limiting factor to producing outstanding images."
– Back to Mauritania, with a Fuji x100s at mitchellkphotos here: "I have to say, I am loving this camera more and more every time I use it. The fact that it's so small is one good thing, the silent shutter is another. I've also been shooting using the screen on the back of the camera rather than putting it to my eye and looking through the viewfinder. All in all, these factors make the shooting much less intrusive."
X-E1
[shopcountry 12881]
– On The Streets of Brussels with the Fuji X-E1 at thomasfitzgeraldphotography here: "Normally, I would take the 35mm, but as the streets in Brussels are pretty tightly packed, I decided to use the 18-55mm instead. Not only would this give me a bit more room on the wide end, but it would also allow me to zoom in to pick out detail where necessary."
– Dominic: "Hello there :) I did a small available light shooting at night in a local amusement park back in the summer using my xe-1. maybe its still interesting for a look :) here on my blog: http://dominic-schulz.de. greetings from germany"
– A year with the Fuji (se)XE1 at stevethomasadventures here: "the XE1 is a superb but very slow and temperamental camera, that is capable of action work if treated well and given time – but it certainly will not be replacing my Canon's for race and fast action shot=s. It's a camera that you need to love like a high-maintenance partner, the image quality is great, and easily good enough for magazine feature work, but your hit rate will be lower – especially in contrasty light and when the target is coming towards you, but the images that you do nail will make you happy, and relieved."
– Mirrorless (X-E1) to Africa at davidduchemin here: "I'm quite comfortable with my Fuji XE-1, and because I'm not one to chase fast-moving predators, I think the 55-200 lens will give me all the reach I need,  but I've also got a rangefinder that's new to me and I'm already nervous about the learning curve."
– Prague 2014 New Year's Fireworks at jiriruzek here: "No Photoshop, just Fuji :)"
– A New Year brings review of the old at aboonephoto here: "Now as for the Fuji X-E1 the camera is more than capable of handling all types of photography from macro to street photography. The images I produced and now use on my website because I think they are more than worthy and have significant detail. The camera has its quirks like focusing, with firmware updates its way better than where it started. I thoroughly enjoy the camera day to day. Do recommend the Fuji X-E1 I do I recommend their entire line up of cameras, but read up on the camera first, its tricky and not for everyone but it will grow on you."
– Street Photography in Perth with the Fuji X-E1 at imagesbytomasz here: "Ted was geared up with 2 DSLR bodies, a flash, and a bag full of gear goodies. I took the complete opposite approach. I had my trusty Fuji E-X1, and ND filter and 1 lens."
– Say hello to my new camera: the Fuji X-E1 at musicphotographer here: "The X-E2 was the right compromise in specifications, but then it was too expensive, the improvements made from the previous version of this camera, the X-E1, weren't fundamental for me, yes it has a newer sensor and a newer processor, but it's not a huge leap from the previous generation, and yes it has a faster AF, but with recent firmware the X-E1 is close in terms of AF speed with the newer brother, and as I said, I only need for street photography and casual landscape photography, so the AF it doesn't  need to be super fast, so at the end I've opted in for the X-E1."
– Tilt screens on all Fuji X series. …… If you like at simonpeckham here: "Ok so it has some flaws, you need to make sure you not surrounded by other strong signals of other wifi networks as both my devices tend to look for the strongest signal so the weaker one will often be lost. However out in the open it works well."
– The Fuji XE1 Makes Me Warm at streetshooter here: "I gotta be frank now. The Fuji's are excellent to work with but using a good lens like the Skopar or Heliar or Summicron etc, brings the camera to life."
 X-PRO1
[shopcountry 12882]
– Nathan Wright: "Hello Patrick, Happy Christmas and all that stuff. It's all done and gone, and the now-fattened world is getting back to work. I'm an audio product photographer based in the world's largest city. Tokyo is a Mecca of high and low end audio shops. And while my review of the X-Pro 1 and 12/5,6 Voigtänder features not a single one, I do try to point out to prospective buyers the merits of this lens, which include that it looks so damn good on the X-Pro 1. Here is the review. I'm also a [shoplink 19558]Sony A7r[/shoplink] user (does most of my commercial photography now – amazing isn't it that a 35mm camera can get by for so much), but I try to stay away from it whilst out for fun, because fun that camera is not. Fun the X-Pro 1 is. And using adapted LTM/M lenses is how I shoot it. I hope that my review will help people centre their opinions on the system and on this fabulous lens."
– (shared on google+): Barcelone en noir et blanc at digitlife here.
– "Fuji X-Pro1 at ISO 1600 and Canon EOS 5D Mark II at ISO 1250 respectively. Can you tell which is which without looking at the EXIF info at normal web viewing distance?" See the shots here at leighmiller.
– Studio shoot met Fuji X-Pro1 here.
– samburtonphoto in Paris here: "I honestly am starting to believe that the era of the DSLR is coming to end… I'll be shocked if I'm still shooting DSLR's by 2015.  Fuji has really one me over with their new cameras… as well as their design principles as well as their dedication to their existing customers with their amazing firmware updates."
– Fuji X Pro 1 Review at scottwilliamsphotographer here.
– Read sergeys.us "Selling the Fujifilm X-Pro 1?" post here.
– Gavin Millar: "I just wanted to drop you a link to a lingerie shoot I shot with the X Pro 1" See them here and here.
– What I like least about the X-Pro at nomadphotoexpeditions here: "I think that with just a few improvements or changes the Fuji can become the ultimate camera for the photographer looking for a quality camera that is discreet and lightweight and has great functionality. It is only a matter of a little time and some small improvements."
– prometheus in London with his X-PRO1 here: "I've photographed this building before at night with other camera gear and was left wholly unsatisfied.  The Fuji X-trans chip has more dynamic range and the color handling does not blow everything up in the yellow channel like other cameras seem to do."
– Coney Island Polar Bear New Years Day Swim 2014 : A Guide To Photographing This Tradition at suspectphotography here: "I did get tired of the police boat in the background, but the back lit splashes never gets old. One problem was the sun was just above the frame and wreaked havoc with the exposure. I was at +2 Exposure Comp to make this one. [see the shot on his website]"
. My Thoughts After 18 Months Shooting With the Fujifilm X-Pro1 at falconercommunications here: "Fuji's X-Series shows a great deal of promise, particularly the higher-end cameras like the X-Pro 1, X-E2, and X100s, but the cameras are still experiencing some teething pains as they become fully sorted. Still, Fuji has done a remarkable job of engineering this system in relatively short order, and with another 2 years or so to mature, I expect there will be some amazing cameras to choose from."
– The Fuji X-Pro is not a Toy! at suberashi here: "So all my Canon gear went and the Fuji came in, worried? yes. Had I made a silly move?"
X100
[shopcountry 15293]
 – The X100 is still a good workhorse, according to neillsoden here: "I am still impressed with the camera and would recommend it to anyone that does not have the budget to get the newer models."
– Winter walk along Bournemouth beach with the X100 at ianh here.
 XQ1
[shopcountry 17996]
– "The Fujifilm XQ1–A Canon s120 Killer or a Compact X20?" at ronmartblog.
– XQ1 review at pcmag here: "The Fujifilm XQ1 takes the X-Trans image sensor from the excellent X20 and puts it in a body that's sized like the XF1. The result is impressively compact and is capable of capturing great photos."
lenses
Fuji XC 50-230: [shopcountry 17198] Fuji XF14mm: [shopcountry 12888] Fuji XF 55-200mm: [shopcountry 12892] Fuji XF 18mm: [shopcountry 12891] Zeiss Touit 12mm [shopcountry 13645] Fuji XF18-55: [shopcountry 12887]
– Fujifilm X-Pro1 + XF14mm f/2.8R – again..  at lakeviewman here.
– (shared via FR-twitter) This is a comparison between the FUJINON XF 14mm ƒ/2.8 and the FUJINON XF 18mm ƒ/2 at fujivsfuji here: "Given the compact size, light weight, and faster aperture, I'd say the FUJINON XF 18mm ƒ/2 was made with street photographers in mind, more so than landscape fans. The creamier bokeh also suggests it could be useful for wife-angle portraiture. In some way, the FUJINON XF 18mm ƒ/2's characterisitcs remind me of the old Nikkor 85mm ƒ/1,4 AF-D; optimized for centre sharpness and soft backgrounds."
– Ashiq "Hello!  Just thought I could share some shots taken with the XC50-230. There aren't many sample shots available online when I tried to search before I bought it. Here's a link to my flickr account with shots in Singapore taken with X-E1 + XF35/XC50-230. Nothing analytical and they are raw converted for my own tastes. Vignetting's seen are my own. Hope this help shine some light to the "poorer" long zoom lens! In addition to the flickr set, I've also had a small write up on the XC50-230 on wordpress. Read it here."
"XC 50-230: the forgotten one: I've already got the excellent xf35mm f1.4 and the very capable xf18mm f2 to pair with my x-e1.so when i thought of trying out something different, i looked to the "budget" long zoom lens available for the system. the xc50-230mm f4.5-6.7. alas, there is nada information on the world wide web on that lens. zip. none."
– Field Testing the [shoplink 13645]Zeiss Touit 12mm f/2.8[/shoplink] lens at luminous-landscape here: "All in all, it is an impressive lens that will certainly inspire many photographers with a creative heart and mind. I have noticed only minor issues with the lens during the test period: the lack of distance and depth of field scales, the non-differentiable rings might be not important for many of us. However, the lack of scales can be showstoppers for those who wants to "shoot from the hip" or prefers to operate the camera without switching between the view modes of the EVF."
– Fuji XF 18-55mm ƒ2.8-4 and XF 55-200mm ƒ/3.5-4.8 at the Chick-fil-A Bowl game at stanleyleary here: "Shooting the coin up close with the 55-200mm as well as shooting from the press box were two extremes where the image stabilization really showed how good it worked. I was pleased with the results of handheld photos in both of those situations." In another post here he compares the two lenses at f/8.
– Jordan's full review of the Rokinon 8mm f/2.8 Fisheye for Fuji X is up on Admiring Light here: "It is inexpensive, pretty good optically, versatile, small and is one of the few stereographic fisheyes in existence.  The result is quite a good bargain. […] Most fisheyes are rather expensive little buggers, but the Rokinon 8mm comes in at a very reasonable $329 and you get a lens that performs very well for the price and is sized right for mirrorless cameras." [shoplink 12946]Samyang/Rokinon 8mm specs&price[/shoplink].
RAW-conversion
– Photo Ninja for X-Trans Initial Impressions at thomasfitzgeraldphotography here: "The level of detail you can extract is really impressive. I don't want to compare it to Iridient Developer just yet, until I do some proper testing, but you seem to be able to extract more detail from my initial testing. I don't think the results are quite as organic as Iridient developer though. ID gives an analogue feel which I really like, but I need to do more testing before I say for sure. Photo Ninja definitely outputs sharper and more detailed images at the default settings, but this could just be a combination of settings."
Fuji Instax Mini 90 Neo Classic
[shopcountry 17593]
 – Franck: "Hi Patrick, My name is Franck. This is not a Rumor… but a friend told me that we could very well see a fuji instax mini in Lily Allen's video clip "hard out here" I checked and we can see it several times 'tween 2.03 and 2.22. Nice ad in fact for fuji ;). See the video here."