Mitakon SPEEDMASTER 135mm F1.4 for Fujifilm GFX Announced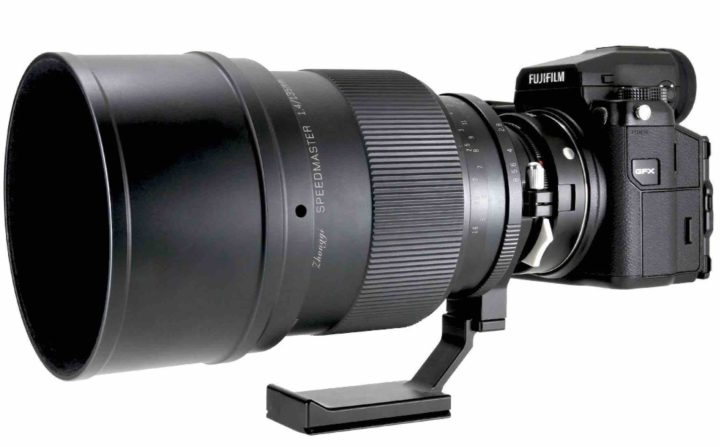 Mitakon just annonuced the Fujifilm G-mount version of the Zyoptics Speedmaster 135mm F1.4 (originally designed for full frame). It will cost ¥ 330,000 (around $2,900). This lens comes in addition to the G-mount 85mm F1.2 and 65mm F1.4 that were announced earlier this year here.
Mitakon Speedmaster lenses for Fujifilm can be found at BHphoto and Adorama.
Speedmaster 135mm F1.4 specs:
Focal length: 135 mm (converted to 35 mm format)
Focus: MF (manual focus)
Aperture: F1.4 – F16
Lens configuration: 11 groups in 5 groups (3 ultra-large aperture ED lenses)
Diaphragm blade: 11 sheets
Shortest shooting distance: 1.6 m
Full length: 160 mm
Diameter: Φ 111 mm
Filter diameter: 105 mm
Mass: 3000 g
Maximum shooting magnification: 0.1 m
Lens Mount: Canon EF, Nikon F, Pentax K, Sony E, Sony A, Fujifilm G, Leica T
Remember, the best place to instantly get GFX news, is our Fujifilm GFX facebook page. And if you want to interact with 16,000 GFX owners and fans, feel free to join our immense GFX facebook group.
via stkb
Fujifilm GFX 50S + Any GF lens* (save $1,000): BHphoto, Adorama, AmazonUS
* GF63mmF2.8 / GF45mmF2.8 / GF32-64mmF4 / GF120mmF4 / GF110mmF2 / GF 23mmF4
Fujinon GF 45mmF2.8 (save $300): BHphoto, Adorama, AmazonUS
Fujinon GF 63mmF2.8 (save $300): BHphoto, Adorama, AmazonUS
Fujinon GF 32-64mmF4 (save $450): BHphoto, Adorama, AmazonUS
Fujinon GF120mmF4 Macro (save $550): BHphoto, Adorama, AmazonUS
Fujinon GF 110mm F2 (save $550): BHphoto, AmazonUS, Adorama
Fujinon GF 23mm F4 (save $550): BHphoto, AmazonUS, Adorama
Sample + Product Images