Last Week to Save Up to $900 on Fujifilm Gear!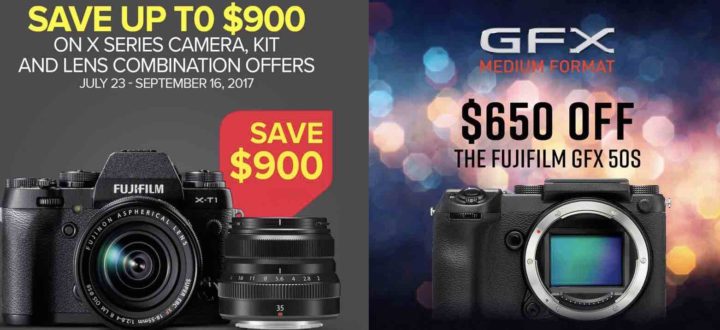 DEALS OVERVIEW
Fujifilm GFX 50s
Fujifilm USA offers $650 bonus trade-in discount. Check out the details at the dedicated BHphoto and Adorama pages. Also Europe is offering the trade in deal for the Fujifilm GFX 50s, but also for the Fujifilm X-Pro2 and X-T2. Go the the Fujifilm EU promotion page and select your country for all details.
And make sure to check out the AmazonUS used/refurbished and BHphoto used/refurbished marketplace… some great deals on G-gear (camera and lenses) to be found there.
Fujifilm GFX 50s: USA BHphoto, Adorama, AmazonUS EU:CalumetDE, WexUK, ParkCamerasUK, PCHstore AUS: CameraPro
X-series camera/lenses
You can save up to $900 if you take advantage of one of the Fujifilm X-T1 bundles below. For example, buy the $500 discounted X-T1, and get a free XF 35mmF2. You'll pay a total of $799 only! Check it out.
As you know, the Fujifilm X-T1 is now officially discontinued, and while the deal runs until September, if the X-T1 bundles sell out earlier, they won't be back in stock. BHphoto for example has the X-T1 + 18-135 combo already listed as discontinued at BHphoto.
X-T1 Black (save $500): BHphoto, AmazonUS, Adorama
X-T1 Graphite (save $500): BHphoto, AmazonUS, Adorama
X-T1 + 18-55 (save $500): BHphoto, AmazonUS, Adorama
X-T1 + 18-135 (save $500): BHphoto, AmazonUS, Adorama
X-T1 + 35mmF2 (save $900): BHphoto, AmazonUS, Adorama
X-T1 graphite + 35mmF2 (save $900): BHphoto, AmazonUS, Adorama
X-T1 + 18-55 + 35mmF2 (save $900): BHphoto, AmazonUS, Adorama
X-T1 + 18-135 + 35mmF2 (save $900): BHphoto, AmazonUS, Adorama
Fujifilm X-A3 + 16-50 + 50-230 (save $300): USA: BHphoto, Adorama, AmazonUS
Fujifilm X-E2s body or kit (save $200): BHphoto, AmazonUS, Adorama