Last Week of X-T4 and XF56mmF1.2 Deals – The Rest Expires March 26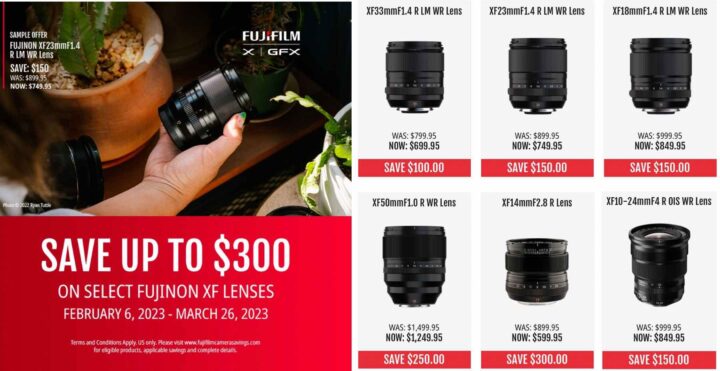 Ultimate Lightroom Masking Course (with 5 Free Tips)
Official Fujifilm X Photographer Piet Van den Eynde has launched his new "Ultimate Lightroom Masking" Online Course. All details (with early bird discount) can be found at this page here.
Piet has also shared 5 free video masking tips, which you can find in this article.
USA DEALS
This is the last week for the deals on the Fujifilm X-T4 and the XF56mmF1.2 R. The rest of the deals expires March 26.
Also in Europe there are lots of deals. I took advantage of them myself and bought this lens.
Official Fujifilm Deals
Price Drops
X Camera Deals
GFX Deals
Best of Kickstarter
Camera Sling by Clever Supply Co.
Clever Supply Co., already known for its camera straps, has now launched their first camera bag on kickstarter. As usual, it comes with a kickstarter backers discount.
You can read all the details and see a short video introduction to the Camera Sling at this kickstarter page here.
Power Junkie V2
Blind Spot Gear has launched Power Junkie V2 on Kickstarter, which allows you to power also your Fujifilm cameras using the Sony NP-F batteries. This is definitely something interesting for filmmakers.
Down below a quick video demo on how it works and for all the details check out this dedicated kickstarter page here.
SnapPack Anti-Theft Travel/Commute Bags
Check out the SnapPack Anti-Theft Travel/Commute Bags on Kickstarter here.
Spinn
The new Spinn CP is now available on Kickstarter (Click here). It's a different way to carry your camera and an update to their previous CP version. It now comes with two different base plates and a adjustable comfort strap made in five colours. From recycled raw materials.
Heipi Tripod
Praised by many, including huge vloggers, as the best travel tripod ever made, you can still get the Heipo Travel Tripod at Indiegogo with launch discount.
Europe Deals
Down below are all the deals listed by country. I will include GER, UK and ITA, but it runs also in many other European countries.
At the bottom you'll also find the links to the pages where you can submit your cashback claim.
EU X DEALS
EU GFX DEALS
Claim Your Money Back
miXed Deals and Fujifilm Officially Recommended Accessories
Deals by Category
Brand Related Deals
All Fujifilm Deals
Used Fujifilm Gear at B&H Photo
Used Fujifilm Gear at Other Stores
Officially Recommended Cards by Fujifilm
CFexpress Type B Cards
Out of all the CFexpress cards mentioned above, these are the cards without any compromise in performance at all:
For more details check out this article.
UHS-II SD Cards
Power Banks officially recommended by Fujifilm