Is this the first image of a prototype X-PRO2, shared by Fuji X photographer Max de Martino?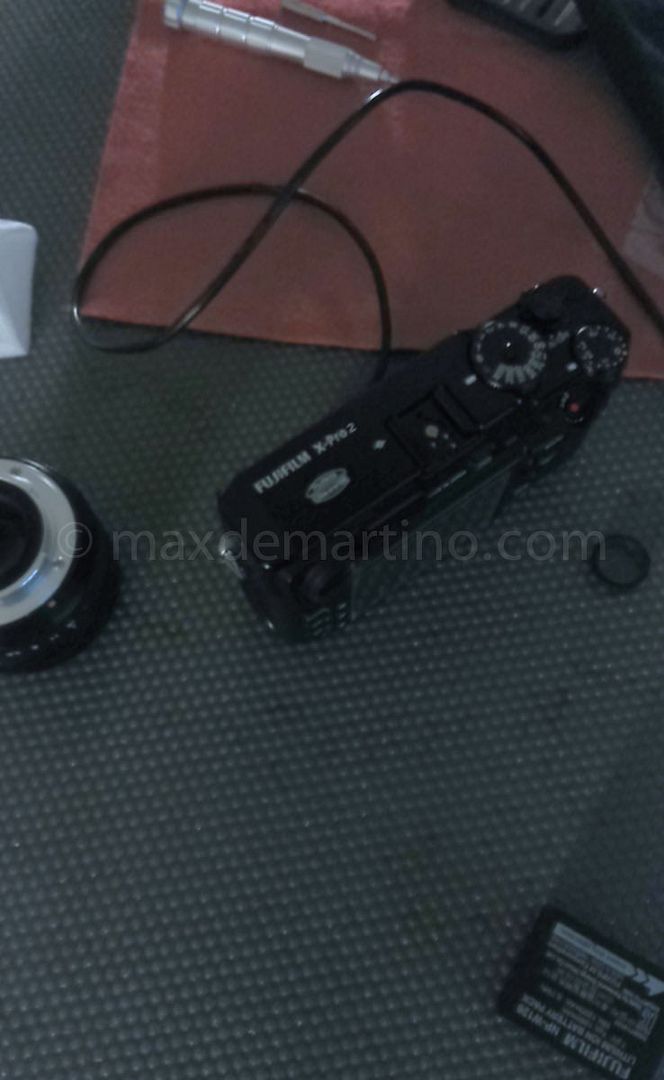 UDPATE: THE TRUTH: It's an April's fool Trick. The guys behind this funny joke told me yesterday that they'd appreciate the support of FujiHumors… and I hate to be the spoilsport ;) .
X-PRO2 Leaked?
I share it as I've received it via twitter here… the image was shared by Max De Martino, an official Fuji X Photographer over at his website maxdemartino.com. It shows a (pretty blurred) image of what could be the Fujifilm X-PRO2. We can read:
"A friend of mine (we will call him Mr. Ma Ni), from Japan, sent me this stolen picture of the new Fuji X-Pro2. The quality is not good, but it looks to be a working prototype.
Some specifications he say could be true, he received from a man at Fujifilm:
4k Video
Sensor 10% bigger than the previous one, so that you can use the "old" lenses, with a crop factor of 1.2x
Processor EXR IV
Dual Sd
27 Mpx
Magnesium and anticorodal alloy
Hibryd viewfinder (as X100T, but with X-T1 dimensions)
LCD that twist & tilt
Radio TTL control of Fuji, Profoto and Nicephoto flash
Radio (manual) control of Nikon and Canon speedlights, with an optional adapter
Customizable versions they called "Sakana" with lizard, iguana and shark skin.
Chanel Limited Edition: shark skin white colored with black details, in a limited edition of 31 pieces, as the first Chanel boutique, in Paris, Rue Cambon 31.
SPRING is here! Need a new T-SHIRT?
FUJI X-SHIRTS available here in USA and here in Europe & CO.
Learn more about the Fair Trade X-shirts here.