UPDATE – HOT: Fuji X-Pro2 Launch Party! Win $1,699 with FujiRumors & BHphoto… with just Two Clicks! – Here Is How!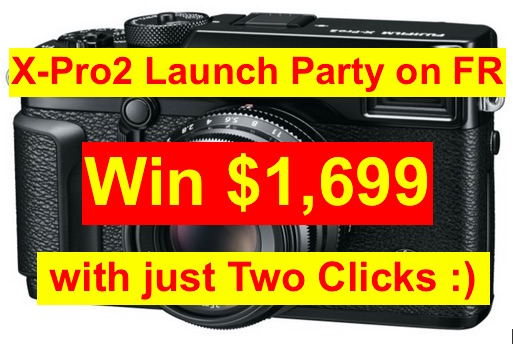 [UPDATE: WINNER ANNOUCEMENT HERE]
You are ready to buy the Fujifilm X-Pro2? Then you might consider to do it via FujiRumors/Bhphoto… because we have a nice Sweepstakes for you :-)
Starting from January 14 at 11:30PM New York time through January 31, FujiRumors readers will have the chance to Win $1,699.
Feel free to join the Sweepstakes by making these Two Clicks:
Click #1: Click on the Bhphoto X-Pro2 (body or kit) shoplink I'll share here on FujiRumors as soon as the camera is available for pre-order
Click #2: After using the FujiRumors link to BHphoto, pre-order the X-Pro2 (body or kit) on BHphoto.
That's it :-)
At the end of the Entry Period, the Sponsor BHphoto will randomly select a winner from all eligible entries (US residents only).
The winner will be selected and notified on or about March 1, 2016 and receive an Amex gift card pre-valued at $1,699.00.
By joining this Sweepstakes, you agree with the Full Terms and Conditions here
Fujifilm X-Pro2: BHphoto
good luck to everyone :-)