Hollyland Mars 400S SDI/HDMI Wireless Video Transmission System for Fujifilm X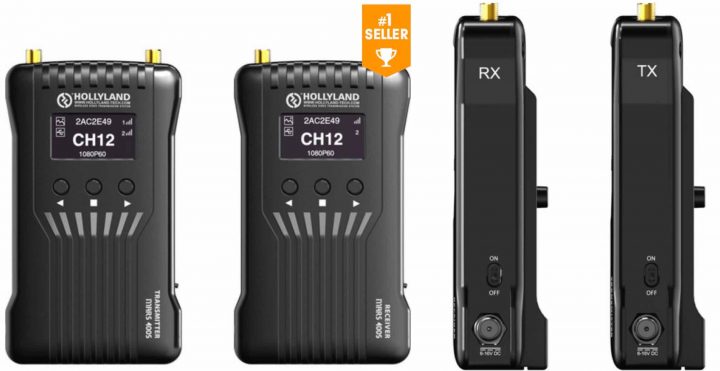 Hollyland contacted me, telling me about a product they offer since late 2019 and that might be of interest also for Fujifilm shooters, the Hollyland Mars 400S.
The Hollyland Mars 400S is a wireless video transmission system.
The Mars 400S from Hollyland is an entry-level 1080p60 transmitter/receiver system featuring a 400′ line-of-sight transmission range. In a compact design, the transmitter and receiver each have an SDI and HDMI connection. The choice between the two connection types expands your compatibility options and also lets you grow in case currently you only need one.

Additionally, an optional second receiver can be linked up to the transmitter to accept the signal at the same time. The transmitter is also capable of sending the signal over built-in Wi-Fi to up to four mobile devices, whether it is also sending to a receiver at the time or not. This will allow different people/departments on the set to view the image being captured. The image is sent to the HollyView app, which is compatible with iOS and Android.

Both the transmitter and receiver have a built-in L-series battery plate and also support DC power. Batteries are sold separately. One power adapter is included to get you started on the receiver end. Both units also have an OLED display that confirms the resolution, transmission channel, signal strength, and other details. The display also shows a low battery warning when there are about 30 minutes of runtime left.

One of the features of the Mars 400 system is a channel scan function. Via the OLED display, you can see the status of each selectable transmission channel in the environment you're in. This feature lets you know which channels are good and which have interference. Another feature is scene mode selection, which allows you to select from three different scene modes as best suits your environment. The three modes let you prioritize between video quality, low latency, or a balance between the two.

The transmitter and receiver are each approximately 4.5 x 2.5″ and have a robust yet lightweight metal housing.
Here are the main specs:
Entry-level 1080p60 transmitter/receiver system
400′ line-of-sight transmission
SDI and HDMI input
SDI and HDMI output
Up to two receivers supported at the same time
Wi-Fi transmission to up to four mobile devices using iOS/Android HollyView app
Built-in L-series battery plates
OLED display
Low battery warning
Channel scan function
Scene mode selection
Down below you can see some video reviews, and there are also customer reviews online:
I did ask Hollyland if the Mars 400s supports also Fujifilm cameras, and their answer was it surely works with X-T3 and X-H1.
Join FujiRumors on Patreon, Facebook, Instagram, RSS-feed, Youtube, Flipboard and Twitter
Disclaimer: this is not a sponsored post. Hollyland does not give me any reward in any shape or form to publish this. I only share it because I did not know about this product, and it might be of interest for some of you out there.