Hey Guys, It's My Birthday… and These are The Very Last Hours to Join The Charity Auction + Discover How Useful $200 Can Be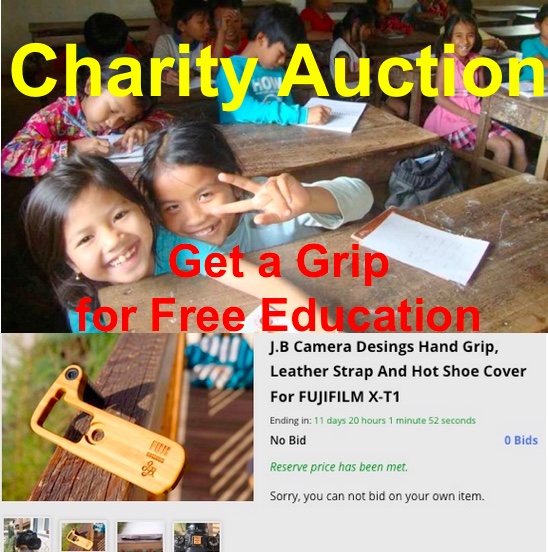 The Auction
So, today it's my birthday, and it's a very special one for me here on FujiRumors :)
Because this is the last day, where you can join the charity auction. You will get:
a cool J.B.Cameradesigns wooden hand grip for Fujifilm X-T1 (with unique "fujirumors" logo engraved)
a leather strap
a wooden hot shoe cover (with unique "fujirumors" logo engraved)
The items are worth $110, and the current highest bid is of $155.
100% of the money you pay will go to charity, more precisely to KNGO, an NGO that gives access to free education to Cambodian kids. We already helped them last year, with the fair trade X-shirts, where we collected $3,500 for them.
You can read all about the Charity auction and our cooperation with KNGO in this article here. You can see all the products I sell for charity and if you want place your bid at this page here.
What KNGO can do with $200
Here is what KNGO told me they can do with $200:
"With $200 we can spend around four months on materials in teaching such as markers, ink, erasers, books, pens, certificates and photo copy worksheet for the students."
So, $155 is already a great support… but everything higher would be even better :)
I will ship everything to you and pay for the shipping, as soon as you made the payment (via PayPal) to KNGO. All the details here.
That's all folks… have a great start in your week… and don't forget to place your bid ;)

Fuji X Forum, Facebook, RSS-feed and Twitter
shared for me at the GFX facebook group, thanks :)