Go Fuller than Full Frame? This Might be the Right Time!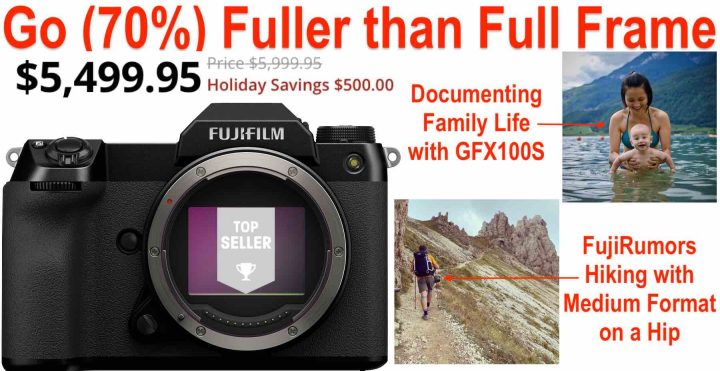 For the first time ever, almost 2 years after its launch, there is a significant rebate the stellar Fujifilm GFX100S in USA, Canada and Europe (full list below). And knowing I am a GFX100S user myself, fellow FR-readers started to ask me if I can recommend the GFX100S.
I personally use the Fujifilm GFX100S a lot when I hike the mountains around my home (as you can see from the IG posts I will share below). And I also took the GFX100S with me on some multi-day mountain hikes, as I reported here:
I also take lots of images of my family with it, especially using the GF 50mmF3.5 (now $300% off).
Look guys, you know better than me that there are compromises to make no matter which camera you pick.
The GFX100S is small for what it is (even smaller than some FF mirrorless cameras)
… but you do get generally smaller cameras and lenses with smaller sensor cameras
The GFX100S is affordable for what it is (even more affordable than some FF mirrorless cameras)
… but you do generally get more affordable cameras with smaller sensor cameras
The GFX100S is fast and feature rich for what it is,
… but you do get faster AF speed and more video features on smaller sensor cameras
But if the one compromise you don't want to make is on image quality, then gor for the GFX system.
Because whatever system you currently use (M43, APS-C or FF), once you shoot with GFX, you'll always come home with at least a hand-full of images that amaze you due to the sheer power the Fujifilm GFX100S demonstrates in those files.
I guess that's also the reason why the SonyAlphaRumors guy himself owns the GFX100S as you can see here.
So, if you want to shoot fuller than full frame with a sensor about 70% larger than FF, if you want to know that in your hands you are holding the one camera, that will give you the best results and the biggest flexibility in the trickiest light conditions, the look no further: no camera will be able to handle it better than the Fujifilm GFX100S does.
Only some of those monstrous digital MF cameras can beat the Fujifilm GFX100S, but good luck hiking with those… if you can afford them!
USA DEALS
CANADIAN DEALS
EUROPE
Sieh dir diesen Beitrag auf Instagram an
Sieh dir diesen Beitrag auf Instagram an
Sieh dir diesen Beitrag auf Instagram an
Sieh dir diesen Beitrag auf Instagram an
Sieh dir diesen Beitrag auf Instagram an
Sieh dir diesen Beitrag auf Instagram an
Sieh dir diesen Beitrag auf Instagram an
Sieh dir diesen Beitrag auf Instagram an