Get a FREE DOMKE Bag/Strap with Purchase of Fujifilm X100V and Save up to $1,000 on Fujifilm X/GFX gear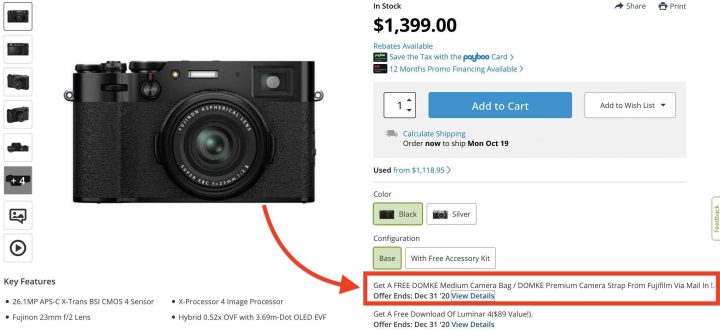 Fujifilm has just launched a new deal.
If you purchase of Fujifilm X100V, you get a free DOMKE Medium Camera bag or DOMKE Camera Strap.
To read all details, go to the BHphoto X100V page and click on the link we show you in the screenshot above or read the full Terms and Conditions below.
And of course, there are still the Fujifilm Fall Savings.
XF Lens Deals
X Camera Deals
GFX Bodies
Terms and Conditions
Terms & Conditions: The FUJIFILM Free Domke Camera Bag or Strap by Mail with Purchase of a FUJIFILM X100V digital camera promotional offer applies only to purchases of the X100V made by a U.S. consumer during the period of October 15, 2020 to December 31, 2020 (the "Promotional Period"), while supplies last. Offer valid with FUJIFILM X100V purchases made at full retail price only; offer may not be combined with any other promotional offers. Valid on X100V only; no product substitutions. Not applicable to back orders. Upon purchase of an X100V during the Promotional Period, a purchasing consumer must fully complete the provided online registration form at https://www.rapid-rebates.com/fujifilmrebate, providing personal information (including valid email and U.S. street address (no PO Boxes)) necessary for shipment and opting to receive either a DOMKE camera bag (Medium Size, in Sand only) (ARV$229.99 + shipping) or a DOMKE camera strap (Sand only) (ARV $79.99 + shipping). Uploaded copy of purchase receipt image and an image of the cut out UPC code from each purchased X100V digital camera box are both required for offer redemption. UPC codes that are not clipped from the X100V camera box do not qualify and will not be eligible for redemption. All claims for redemption of this offer must be received, with all referenced information provided and with uploaded images of X100V purchase receipt and clipped UPC code, before close of business on January 31, 2021. Claims received after January 31, 2021 will not be fulfilled. Offered DOMKE items are available only while supplies last, with fulfillment on a First Come First Served basis. If one DOMKE item is no longer available, the other referenced DOMKE item will be supplied or Fujifilm will provide a substitute similar item equal to or in excess of the referenced $79.99 strap value. Limit ONE redemption, and ONE free DOMKE bag or strap, per person, per household, and per residence and email address. Within 4 weeks receipt of proper, verified redemption claim, Fujifilm will ship the applicable DOMKE item (U.S. addresses only) and email the redeeming consumer the applicable shipment Tracking Number. Allow 2 weeks from date of shipment for delivery. Fujifilm is not responsible for email or street address errors or for delivery issues, or for issues with any DOMKE item provided. Manufacturer's limited warranty is the sole warranty applicable to DOMKE items provided in connection with this offer. Fujifilm reserves the right to modify or terminate this offer without notice at any time, and to disqualify any redemption claim that appears in Fujifilm's sole judgment to be incomplete or fraudulent. FUJIFILM North America Corporation, 200 Summit Lake Drive, Valhalla, NY 10595 is the provider of this promotional offer. Offer is void where prohibited.