Annual Report: Imaging division profitable, strong sales for X-E2 and X-T1 but compact camera overall revenue declines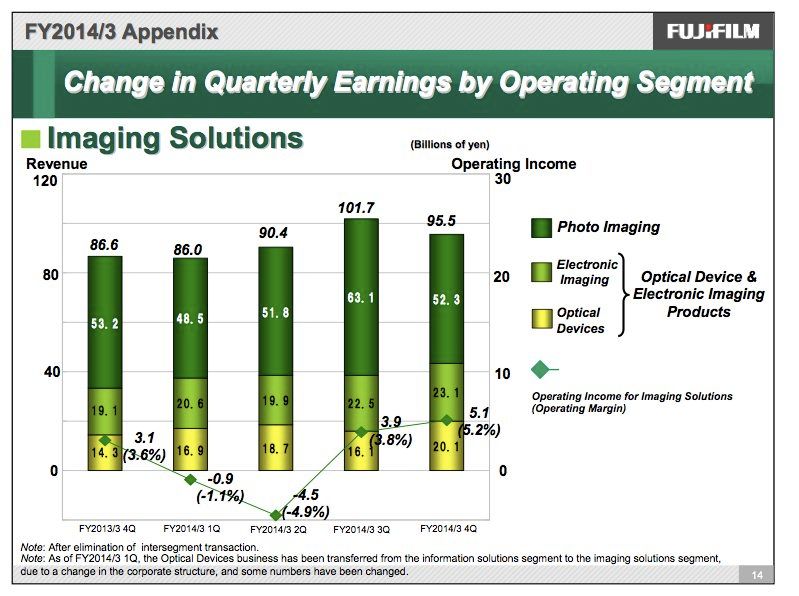 Fuji's annual report is online here.
As you can see from the diagram above, Fuji's imaging division is partitioned in 3 fields: 1) the photo imaging business, 2) electronic imaging field (compact digital cameras), 3) optical device field.
_ _ _
The Good News
The good news is that, overall, the imaging division is making profits… and it's especially fiel 1 (photo imaging) and field 3 (optical device) that are leading Fuji's imaging division out of the operational loss.
"In the Imaging Solutions segment, consolidated revenue amounted to ¥373.6 billion, up 8.0% from the previous fiscal year. Such factors as the expanded sales of camera modules for use in smartphones led to the consolidated revenue increase.
Operating profit amounted to ¥3.6 billion, due to strong sales in the photo imaging business, such as instant cameras, cost reductions and other factors.
Robust sales were seen in the optical devices field, owing to the large sales increase in camera modules for smartphones as well as strong sales of TV camera lenses.
Revenue increased and the segment turned into profitability, reflecting such factors as the strong sales in the photo imaging business (mainly instant cameras), the falling yen exchange rate, and fixed-cost reductions […] the sales of instant cameras and films increased substantially ([shoplink 17593]Instax mini 90[/shoplink] and [shoplink 23847]Instax Share SP-1 printer[/shoplink])"
The Bad News
And what about the compact digital cameras (field 2: electronic imaging field)? Well, it's still the weak spot of the imaging segment.
In fact, the electronic imaging field is still suffering, because the "popularity of smartphones has been causing demand for compact digital cameras to decline". So, although the sales of the premium X-series cameras are increasing, the overall revenue is declining. However, Fuji expects the sales to of X-series cameras to grow in future.
"Sales in the optical device and electronic imaging products business increased, because sales in the optical device field were strong while sales of compact digital cameras decreased.
In the electronic imaging field, the sales of premium interchangeable-lens-type cameras, such as the FUJIFILM X-E2, which was launched in November 2013, and the FUJIFILM X-T1, which was launched in February 2014 were strong, but a decrease in overall demand for compact digital cameras, reflecting the spread of smartphones, caused the overall revenue to decline. Fujifilm is working to expand sales centering on interchangeable-lens-type cameras, increasing the product lineup in the X Series of premium cameras that leverage Fujifilm's exclusive technologies and, XF Lens Series, interchangeable lens systems.
Although the market for compact digital cameras is shrinking, demand for high-quality photographs is growing. Our X-Series of high-end digital cameras that concentrates on image quality, operational sense and texture is particularly beloved of photography aficionados. […] we expect the market for digital cameras with interchangeable lenses to grow"
The moral of the story? Drop the entry level segment and give us the X-PRO2 / X200 :-)