FujiRumors 2020: Most Read Articles, Top/Flop Blogger Moments, Most Used Gear and a MASSIVE Thanks!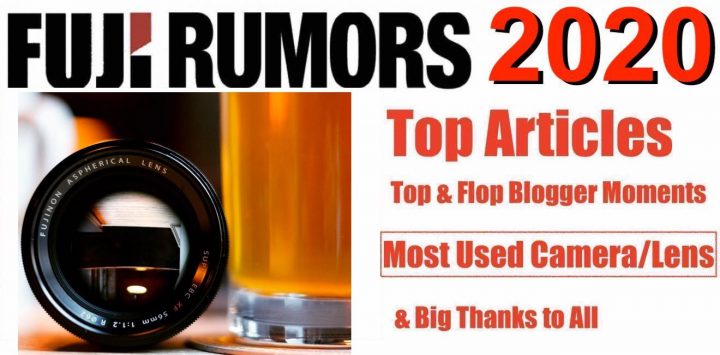 FujiRumors 2020
There are wines, that get better only with the years. And there are years, that get better only with wine. I guess 2020 was such a year and so I hope you have a glass of wine ready to celebrate the end of this unreal year ;).
But let's quickly look at what happened it 2020 here on FujiRumors.
Now, I already thought you were amazing, but in 2020 you did even better than in 2019!
Your massive participation is the reason why Fujifilm reads us with greatest care, as proven multiple times such as here, here and here.
As you know, I run FujiRumors alone in my spare time from my teaching job.
So it was not always easy, especially this year with the extra workload I had to do to switch to online-teaching, but I have tried to honor your fantastic participation by delivering you in 2020:
Phew!! :)
Most Read Article
Most Read Non Rumor Article
Most Read Guest Post
Day with most Contacts
Top & Flop Blogger Moment
FLOP
Anyone out there knows what a burn-out is? I hope not, but I am afraid yes.
As if all the hours I spend every day on the computer to work on FujiRumors weren't enough, in 2020 I also had to make my entire teaching work on the computer. Correcting homework on PDF files, prepare online-teaching friendly material, cutting video lessons on Final Cut, writing tons of emails to give constant feedback to students and parents. So much work, it just squeezed the last drop of energy out of me.
I ended up staring at the screen for so many hours a day, that as a consequence, my eyesight declined to a point that I had to buy new glasses. But no complaint here… we have seen much worse things happen to people this year… sadly. So I consider myself lucky.
Anyway, somehow I managed to handle all the work anyway and I've always tried to deliver creative and fun lessons to my little students. And given the enthusiastic feedback of students and parents (and also my school principal), I'd say I did a decent job with that.
And I hope I did a good work also on FujiRumors. In this case, you are my judge and you'll give your vote to me :).
TOP
If anything was good at all in 2020, then the fact that it helped to realign my priorities.
And so, all the things that I took for granted, like getting a beer with a friend, a coffee with a colleague, a hug with my mom, all those "normal" things suddenly revealed themselves as the real important things in life.
And hence, just like this, when inevitably the usual haters insulted me, the biggest achievement for me was that I could lightheartedly say to myself "who cares!". It just didn't bother me at all. On the contrary. I really would like to wish also to FR haters all the best 2021. We are in this unreal situation all together, and hence, from human to human, I truely wish you to come out of this as soon and as good as possible so that you can get back to your normal life and fully enjoy it again. And if after that you still don't like me, that's ok. Important is, that you and your families are safe and happy.
Top Instagram Post

My Most Used Gear
I got the Fujifilm X-T4 this year for these 5 reasons, and it became my most used camera. Mainly because it's brand new and hence I wanted to test it and shoot with it more, leaving my X-E3 more often at home. And I must I say it definitely balances better with my most used lens, the Fujinon XF18-135mm.
But overall, I passed 5+ months in lockdown anyway, I worked a lot and had little time to take pictures, sadly. I hope this changes in 2021.
And 2021…
I don't know in terms of global pandemic…. but surely in terms of Fujifilm stuff, 2021 will be fantastic! :) Don't worry, we are going to talk about it soon on FujiRumors.
Social Media Boom
Our social media and pages have reached new heights compared to 2019:
And our facebook groups grew massively compared to 2019: