Fujinon GF 45mm F2.8 in Stock + Hands On Reviews: "Focus is Fast, Great, and Sharp"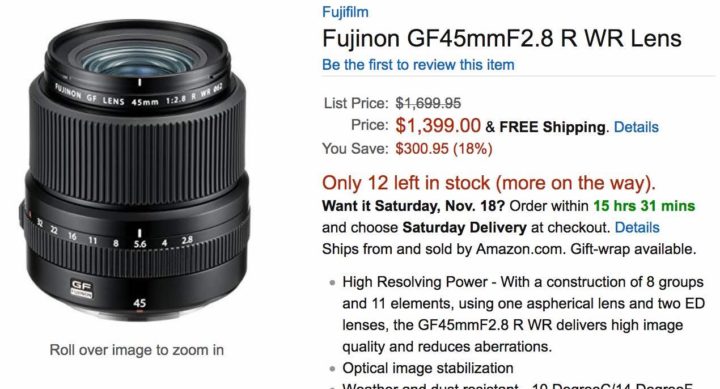 The Fujinon GF45mmF2.8 is now in stock at AmazonUS here and Adorama here. Just like all other GF lenses, there is a huge discount also on the GF45mm.
The GF45mm (35mm FF equiv.) is quickly becoming a favorite amongst GFX shooters. And it seems to perform wonderfully. Here are a few reports you might find useful:
The best place to instantly get GFX news like these, is our Fujifilm GFX facebook page.
Fujifilm GFX 50S + Any GF lens* (save $1,000): BHphoto, Adorama, AmazonUS
* GF63mmF2.8 / GF45mmF2.8 / GF32-64mmF4 / GF120mmF4 / GF110mmF2 / GF 23mmF4
Fujinon GF 45mmF2.8 (save $300): BHphoto, Adorama, AmazonUS
Fujinon GF 63mmF2.8 (save $300): BHphoto, Adorama, AmazonUS
Fujinon GF 32-64mmF4 (save $450): BHphoto, Adorama, AmazonUS
Fujinon GF120mmF4 Macro (save $550): BHphoto, Adorama, AmazonUS
Fujinon GF 110mm F2 (save $550): BHphoto, AmazonUS, Adorama
Fujinon GF 23mm F4 (save $550): BHphoto, AmazonUS, Adorama
Fujifilm GFX 50S Secret Deal: How to Save $,1550 (instead of "just" $1,000) on Fujifilm GFX at BHphoto – full instructions here