Fujifilm X-T3 vs Sony A7III, A7rIII and A6500, Everything Wrong with the X-T3, High ISO and Lab Tests & More
Fujifilm X-T3
We did share a dedicated Fujifilm X-H1 roundup earlier today. Don't miss it. But of course there is lots of stuff about the X-T3 been shared in these days. So here is the next Fujifilm X-T3 roundup.
Fujifilm X-T3 (save $130 w/grip): BHphoto, AmazonUS, Adorama, Focuscamera
News, Rumors and Community
Fujifilm X-T facebook group
Fujifilm X-T facebook page
Fujifilm X-T3 vs Sony A7III
The Everyday Dad is a huge fan of the Sony A7III and he has praised it often on his channel. He never used Fuji, and the Fujifilm X-T3 is his first one.
So, today he compares the Fujifilm X-T3 with the Sony A7III. Some key points:
X-T3 and lenses are smaller. Overall less fiddly than the Sony A7III
X-T3 has tally light, so you always know if you are recording or not
X-T3 accessory door comes off. On A7III the doors are super fiddly
A7III better ecosystem, because can use FF and APS-C e-mount lenses
A7III has an XLR audio adapter
both have excellent image quality
for him the X-T3 is the better video quality camera. It's just amazing. 4K@60p 10bit, Eterna looks awesome
X-T3 has no IBIS, but he was never impressed by Sony A7III IBIS anyway
for price and features, the Fujifilm X-T3 is the better tool for online content creation
You can see the full video on his youtube channel here.
Fujifilm X-T3 vs Sony A7rIII Banding Test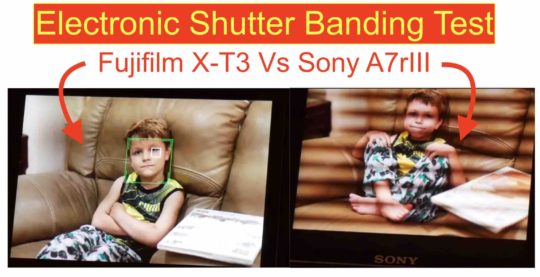 Dmitry wrote me that he has made a banding test of Fujifilm X-T3 banding vs Sony A7RIII. You can see the result on his youtube channel here. He writes:
"Fuji says they reduced rolling shutter by 50 percent with X-T3 electronic shutter. But what about banding? I tested for banding in my living room on X-T3 and compared it to my much more expensive Sony A7RIII. Which one does better with electronic shutter? It is not even close! Fuji wins by a mile"
Everything Wrong with the X-T3
Wedding photographer Ben shared a 27 minutes long video listing reasons why you might not want to buy the Fujifilm X-T3.
CONS
Firmware Issues: lock-up issues, which has been fixed with 1.01. Possible future firmware might introduce new bugs, and Fuji has to fix them again
Professional Service: in USA, the service is slow
Break Downs: he really pushed his X-T2's to the limit, using in sand and so. Shutter button locked up
Lens Selection: not as great as DSLRs. No third party line-up such as Sigma [he says there is no tilt shift option, but there is one from Samyang]
Speed lights: EF-X500 has no radio transmission. He mention Yongnuo, Profoto, Nisson and Godox. He went Godox
Battery Life: Battery life is better on X-T3 than X-T2, but not yet on DSLR level
Fast (expensive) SD-cards: You need fast cards to keep up with the speed of the camera. The X-T2 locked up if shoot continuous bursts with slower cards
No IBIS: missing especially for video
DOF from APS-C: FF has shallower DOF [NOTE to Fujifilm: come out with that XF33mmF1.0 as soon as possible, so this argument will finally stop]
PROS
Light: it's a light system, solved much of his hand pain issues during weddings
Focus: he's blown away, also by the face tracking. He shot an entire video filming his kids in face tracking, and it worked wonderfully. He can be more present to the moment while shooting, because the focusing is so great, he can trust the camera, not worry about focus, and be more in the moment
EVF: what you see is what you get
VIDEO: Image quality in video is hard to beat
Price: $1,500. Underpriced for what you get
Colors:  There is something about Fuji files, the toning, color and grain, that has a character.
Experience: Breaths new life into photography. Very enjoyable to use. The visuals, the feeling, the look, the dials. The experience is different and enjoyable
You can see the full video at Ben Hartley Youtube.
X-T3 – Quality of Low Light Shots Noticably Better
Adrian Weckler says the quality of low light shots on X-T3 is much better than previous generation X-Pro2. Check out his review at Adrian Weckler youtube.
Fujifilm X-T3 vs. A6500 vs FS5 Rolling Shutter Comparison
Lazy Video Guy compared the rolling shutter of the Fujifilm X-T3, A6500 and FS5. See the video on his youtube channel here.
2 Hour X-T3 Tutorial
Michael The Maven has uploaded a 2 hours video tutorial covering the Fujifilm X-T3 operation. You can check it out at Michael The Maven Youtube.
X-T3 Wedding Photographer feedback
ian worth youtube – Ian is a wedding photographer, and very happy with the X-T3 (he also owns the X-T2). Check out his video to hear what makes him happy. Teaser: he got shots with AF that he didn't think he would get.
LAB TEST
Imaging-resource just published their Fujifilm X-T3 lab test shots. You can go to their comparomenter and compare the X-T3 RAW and JPEGs to whatever camera they have in their system.
Imaging resources writes here:
"Fuji says [the new sensor/processor combo] helps the X-T3 improve its Film Simulations, subject tracking and AF performance, as well as deliver better video features.
Keep in mind that the Fujifilm X-T3 samples were shot using the XF56mmF1.2 whereas the X-T2 samples used the XF60mm, so take the comparison with a grain of salt.
HIGH ISO TEST & More
Dan Bailey tested the high ISO performance of the Fujifilm X-T3. You can read the article and see the results at danbaileyphoto.com. From the conclusions:
"When compared side-by-side with the X-T2, X-T3 images do show an incremental improvement in low light performance and overall tonal rendering, although the different is not as drastic as it was going from the X-T1 to the X-T2. Even though the X-T3 does have a more advanced system, don't expect to see a huge, night and day difference between the X-T2 and 3 in terms of low light performance."
Stuff.tv has the X-T3 review up at stuff.tv:
"It's really hard to find anything bad to say about the Fujifilm X-T3 – it's just consistently great in so many ways"
Fujifilm X-T3 Mirrorless Camera and the 200mm f/2 Telephoto Lens at Precision Camera & Video Youtube
Fujifilm X-T3 (save $130 w/grip): BHphoto, AmazonUS, Adorama, Focuscamera
You can't get enough of Fujifilm love? Then follow FujiRumors on Facebook, Instagram, RSS-feed and Twitter.
News, Rumors and Community
Fujifilm X-T facebook group
Fujifilm X-T facebook page