Fujifilm X Magazine (Nr.18) Online: NATURAL BEAUTY ** Win a Fujifilm X100F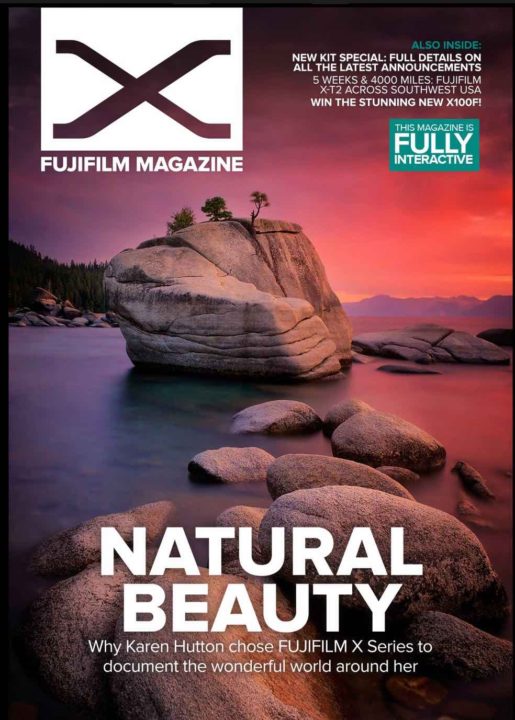 The latest edition (18) of Fujifilm's Interactive X Magazine is now available online here – Free iPhone App here – Free Andoid App. It includes also all the latest and greatest Fuji X gear (Fujifilm GFX, X100F, X-T20, XF 50mm, the graphite X-T2/Pro2), as well as an interview with Karen Hutton, tips for long exposure and more.
Interesting to note, that the magazine says the Fujifilm GFX is available for pre-order, but will go on sale only at the end of March.
And this time, you have the chance to win a Fujifilm X100F. See all older magazines here.
*** 2 Days Left *** Fujifilm GFX: USA BHphoto – Win $3,000 by pre-ordering at BH via FR*, Adorama, AmazonUS EU: AmazonDE, AmazonUK, WexUK, ParkCamerasUK, PCHstore AUS: CameraPro
*Pre-order the GFX at BHphoto using the FujiRumors B&H link to enter the contest. Price: $3,000. Sweepstake Overview & Rules can be found here. Full Terms & Conditions here
Fujifilm X-T20: USA: BHphoto, Adorama, AmazonUS EU: AmazonDE, AmazonUK, WexUK, PCH AUS: CameraPro
Fujifilm X100F: USA: BHphoto, Adorama, AmazonUS EU: AmazonDE, AmazonUK, WexUK, PCH AUS: CameraPro
Fujifilm XF50mmF2 WR: USA: BHphoto, Adorama, AmazonUS EU: AmazonDE, AmazonUK, WexUK, PCHstore AUS: CameraPro