Fujifilm X and GFX Savings – LAST WEEK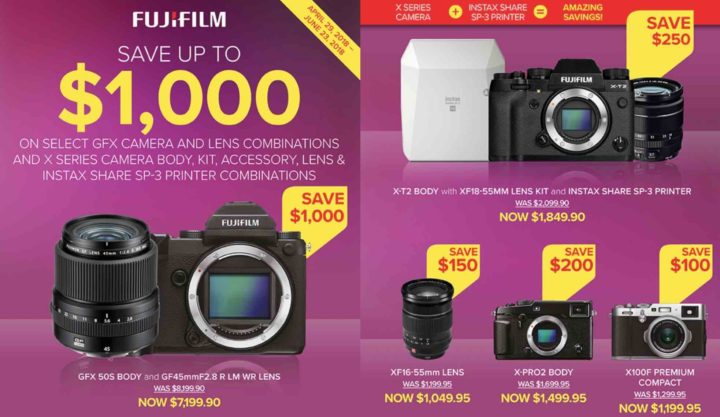 Fujifilm Savings USA
Fujifilm GFX
GFX 50S + 63 or 45 or 32-64 (save $1000): BHphoto, AmazonUS, Adorama
Fujifilm X Series Cameras
X-T2 black body (save $200): BHphoto, AmazonUS, Adorama, Focuscamera
X-T2 graphite body (save $200): BHphoto, AmazonUS, Adorama, Focuscamera
X-T2 + 18-55 (save $200): BHphoto, AmazonUS, Adorama, Focuscamera
X-Pro2 (save $200): BHphoto, Adorama, AmazonUS, FocusCamera
X-Pro2 graphite with 23/2 (save $200): BHphoto, AmazonUS, Adorama
X-T20 with XC 16-50 (save $100): BHphoto, AmazonUS, Adorama
X-T20 with XC 16-50 + XC 50-230 + Grip (save $429): BHphoto, AmazonUS, Adorama
X-T20 body (save $100): BHphoto, Adorama, AmazonUS, FocusCamera
X-T20 + 18-55 (save $100): BHphoto, Adorama, AmazonUS, FocusCamera
X100F (save $100): BHphoto, Adorama, AmazonUS, Focuscamera
Fujinon Prime Lenses
XF 14mm (save $100): BHphoto, AmazonUS, Adorama, FocusCamera
XF 16mm (save $100): BHphoto, AmazonUS, Adorama
XF 18mm (save $50): BHphoto, AmazonUS, Adorama, FocusCamera
XF 23mm (save $100): BHphoto, AmazonUS, Adorama, FocusCamera
XF 27mm (save $50): BHphoto, AmazonUS, Adorama, FocusCamera
XF 35mm F1.4 (save $50): BHphoto, AmazonUS, Adorama, FocusCamera
XF 56mm APD (save $150): BHphoto, AmazonUS, Adorama, FocusCamera
XF 56mm (save $100): BHphoto, AmazonUS, Adorama, FocusCamera
XF 60mm (save $50): BHphoto, AmazonUS, Adorama, FocusCamera
XF 80mm (save $150): BHphoto, AmazonUS, Adorama, FocusCamera
XF 90mm (save $100): BHphoto, AmazonUS, Adorama, FocusCamera
Fujinon Zoom Lenses
XF 10-24mm (save $100): BHphoto, AmazonUS, Adorama, FocusCamera
XF 16-55mm (save $150): BHphoto, AmazonUS, Adorama, FocusCamera
XF 18-135mm (save $100): BHphoto, AmazonUS, Adorama, FocusCamera
XF 50-140mm (save $150): BHphoto, AmazonUS, Adorama, FocusCamera
XF 55-200mm (save $100): BHphoto, AmazonUS, Adorama, FocusCamera
XF 100-400mm (save $150): BHphoto, AmazonUS, Adorama
Instax Share SP-3
Instax Share SP-3 (save $50 with camera purchase): AmazonUS, BHphoto, Adorama
Fujifilm X-T2 + X-A3 + X-E2S – X-E3
Fujifilm X-T2 (Create Your Saving Bundle): Adorama, BHphoto
Fujifilm X-E3 (free Premium Leather Strap): BHphoto, Adorama, AmazonUS
Fujifilm X-E2S back body (save $279 – 40% off!!): Adorama
Fujifilm X-A3 + XC 15-45 (save $50 or get free leather strap): BHphoto, Adorama, AmazonUS
Fujifilm X-E3 Limited Time Deal
Fujifilm X-E3: $899 + $100 Gift Card
Fujifilm X-E3 with 18-55mm: $1299 + $200 Gift Card
Fujifilm X-E3 with XF 23mm: $1149 + $200 Gift Card
Used Fuji X Gear Sale
Adorama has plenty of used Fujifilm gear for sale. Also BHphoto has a dedicated used Fujifilm gear page here.
Third Party Fuji X Mount Lens Deals
BHphoto has all third party Fuji X lens deals listed on this page here.
Fujifilm Savings EU
EU deals included Fuji X-Pro2, X-T20 and X100F as well as Fujinon XF lenses. The Fujifilm GFX 50S is €1300 off if purchased with a lens, whereas GF lenses only are €660 off, as you can see at Fujifilm Germany here.
WexUK has the deals already listed, but check out also AmazonDE, AmazonUK, AmazonIT, AmazonFR and AmazonES (not marketplace products, but only shipped and sold by Amazon). See if your country is included by selecting your country here.
Editing Software Deals