Fujifilm X and GFX Camera and Lens Deals now With Fujifilm X-Pro2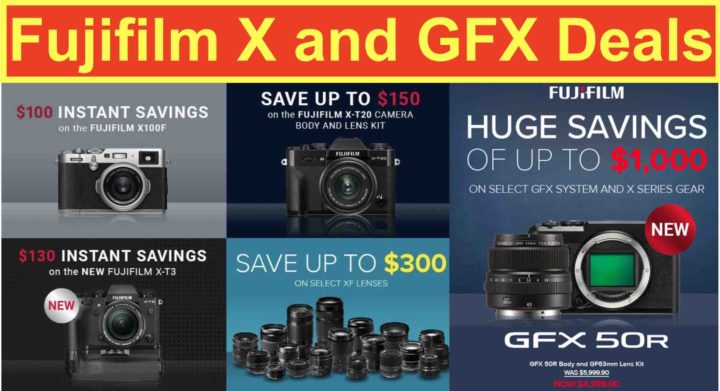 Fuji US X Deals
Fujifilm GFX 50R / 50S
GFX 50R + GF63mm (save $1,000): BHphoto, Adorama, AmazonUS, FocusCamera
GFX 50R + GF45mm (save $1,000): BHphoto, Adorama, AmazonUS, FocusCamera
GFX 50R + GF32-64mm (save $800): BHphoto, Adorama, AmazonUS, FocusCamera
GFX 50S (save $1,000): BHphoto, Adorama, AmazonUS
Fujinon GF Lenses
GF 23mm (save $620): BHphoto, AmazonUS, Adorama, Focuscamera
GF 45mm (save $300): BHphoto, Adorama, AmazonUS, Focuscamera
GF 63mm (save $350): BHphoto, Adorama, AmazonUS, Focuscamera
GF 110mm (save $660): BHphoto, AmazonUS, Adorama, Focuscamera
GF 120mm (save $640): BHphoto, Adorama, AmazonUS, Focuscamera
GF 250mm (save 780): BHphoto, Adorama, AmazonUS
GF 32-64mm (save $550): BHphoto, Adorama, AmazonUS, Focuscamera
Fujifilm X Cameras
X-T3 + v. grip (save $130): BHphoto, AmazonUS, Adorama, Focuscamera
X-T3 + 18-55 + v. grip (save $130): BHphoto, AmazonUS, Adorama, Focuscamera
X-H1 (save $250): BHphoto, AmazonUS, Adorama, Focuscamera
X-H1 + v. grip (save $250): BHphoto, AmazonUS, Adorama, Focuscamera
X-T2 (save $500): BHphoto, AmazonUS, Adorama, Focuscamera
X-T2 + 18-55 (save $400): BHphoto, AmazonUS, Adorama, Focuscamera
X-E3 (save $100): BHphoto, AmazonUS, Adorama, Focuscamera
X-E3 + XF23mmF2 (save $100): BHphoto, AmazonUS, Adorama, Focuscamera
X-E3 + XF18-55 (save $200): BHphoto, AmazonUS, Adorama, Focuscamera
X-T100 (save $100): BHphoto, AmazonUS, Adorama, Focuscamera
X-T100 + XC15-45 (save $100): BHphoto, AmazonUS, Adorama, Focuscamera
X-T100 + XC50-230 (save $100): BHphoto, AmazonUS, Adorama, Focuscamera
X-T20 (save $150): BHphoto, Adorama, AmazonUS, FocusCamera
X-T20 + 18-55 (save $150): BHphoto, Adorama, AmazonUS, FocusCamera
X-T20 + 16-50 (save $150): BHphoto, Adorama, AmazonUS, FocusCamera
X-T20 + 15-45 (save $150): BHphoto, Adorama, AmazonUS, FocusCamera
X-Pro2 black body (save $200): BHphoto, AmazonUS, Adorama, FocusCamera
X-Pro2 + XF23/2 (save $250): BHphoto, AmazonUS, Adorama, FocusCamera
X-Pro2 + XF35/2 (save $250): BHphoto, AmazonUS, Adorama, FocusCamera
X-Pro2 + XF50/2 (save $250): BHphoto, AmazonUS, Adorama, FocusCamera
X-Pro2 graphite + 23/2 or 35/2 or 50/2 (save $200): BHphoto, AmazonUS, Adorama , FocusCamera
X-A3 + 15-45 (save $50): BHphoto, Adorama, AmazonUS, Focuscamera
X100F (save $100): BHphoto, Adorama, AmazonUS, Focuscamera
Fujinon Prime Lenses
XF 14mmF2.8 (save $150): BHphoto, AmazonUS, Adorama, FocusCamera
XF 16mmF1.4 WR (save $150): BHphoto, AmazonUS, Adorama
XF 18mmF2 (save $50): BHphoto, AmazonUS, Adorama, FocusCamera
XF 23mmF1.4 (save $100): BHphoto, AmazonUS, Adorama, FocusCamera
XF 23mmF2 WR (save $50): BHphoto, Adorama, AmazonUS
XF 27mmF2.8 (save $50): BHphoto, AmazonUS, Adorama, FocusCamera
XF 35mmF1.4 (save $50): BHphoto, AmazonUS, Adorama, FocusCamera
XF 35mmF2 WR (save $50): BHphoto, AmazonUS, Adorama, FocusCamera
XF 50mmF2 WR (save $50): BHphoto, Adorama, AmazonUS
XF 56mmF1.2 APD (save $150): BHphoto, AmazonUS, Adorama, FocusCamera
XF 56mmF1.2 (save $100): BHphoto, AmazonUS, Adorama, FocusCamera
XF 60mmF2.4 (save $50): BHphoto, AmazonUS, Adorama, FocusCamera
XF 80mmF2.8 OIS WR (save $150): BHphoto, AmazonUS, Adorama, FocusCamera
XF 90mmF2 WR (save $150): BHphoto, AmazonUS, Adorama, FocusCamera
Fujinon Zoom Lenses
XF 10-24mmF4 OIS (save $150): BHphoto, AmazonUS, Adorama, FocusCamera
XF 16-55mmF2.8 WR (save $200): BHphoto, AmazonUS, Adorama, FocusCamera
XF 18-55mmF2.8-4 OIS (save $100): BHphoto, AmazonUS, Adorama, FocusCamera
XF 18-135mmF3.5-5.6 OIS WR (save $100): BHphoto, AmazonUS, Adorama, FocusCamera
XF 50-140mmF2.8 OIS WR with Teleconverters option (save $200): BHphoto, AmazonUS, Adorama, FocusCamera
XF 55-200mmF3.5-4.8 OIS (save $100): BHphoto, AmazonUS, Adorama, FocusCamera
XF 100-400mmF4.5-5.6 OIS WR with Teleconverters option (save $300): BHphoto, AmazonUS, Adorama
Official Fujifilm Recommended Battery Chargers
Charge via USB Fujifilm X-T3*, X-T2*, X-H1*, X-E3*, X-T20*, X100F* and X100T*, X-T100**, X-A5**, X-A3**, XF10**.
*charging batteries while camera is ON or OFF
**charging batteries only while camera is OFF
Used Fuji X Gear Sale
Adorama has plenty of used Fujifilm gear for sale. Also BHphoto has a dedicated used Fujifilm gear page here.
Third Party Fuji X Mount Lens Deals
BHphoto has all third party Fuji X lens deals listed on this page here.
BHphoto and Adorama are currently running deals on a few Mitakon lenses. Search for Mitakon Fujifilm lenses at BHphoto and at Adorama here to find your deal.
Editing Software Deals – Luminar & Capture One
Special deals on editing software for FujiRumors readers