Fujifilm X-A7 Beats Fujifilm X-T3 Face/Eye Autofocus, but Firmware Update for X-T3 / X-T30 is Coming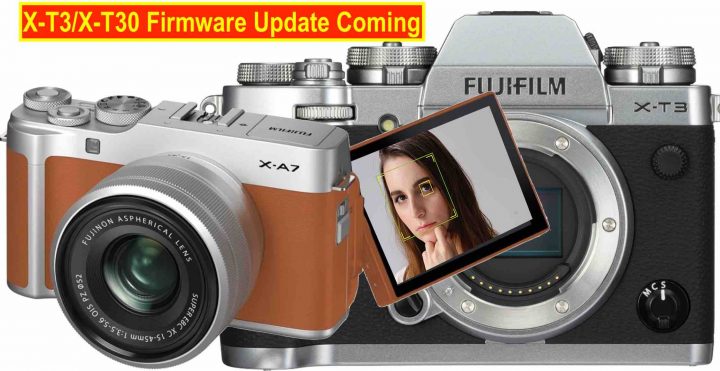 Earlier today Fujifilm announced the Fujifilm X-A7, actually a very nice and capable camera. You can see the full X-A7 launch coverage here.
Among the others, the Fujifilm X-A7 comes with an improved face and eye detection autofocus, that, according to information Maarten Heilbron has received from Fujifilm, is better than the one on the Fujifilm X-T3 and Fujifilm X-T30.
This is confirmed also by DPR, who said (also shared in our live blog):
Fujifilm has hinted that new AF algorithms will allow the X-A7 to perform as well or better than the X-T30/X-T3.
The good news:
As Maarten Heilbron disclosed in his Fujifilm X-A7 video shared in our live blogging, Fujifilm told him they will release a firmware update to bring the Fujifilm X-T3 and X-T30 eye/face AF on par with the Fujifilm X-A7.
Now, today Fujifilm also released a firmware update for the Fujifilm X-T3 (ver.3.01 here), but this just fixes a bug, and is NOT the firmware update Maarten is talking about.
FujiRumors already rumored, that Kaizen firmware updates are in the work and ready to be disclosed soon. They might bring AF improvements, as Maarten says, but also other new features, like the "live light trail", also already available on the X-A7, and of course you can see this feature in action at our X-A7 live blog.
I know that's a lot of information for our fellow American readers, who just woke up and suddenly have to digest all this info, so make sure to check back our previous articles.
fujirumors.com – Fujifilm X-A7 live blogging – New features, first looks and press release
fujirumors.com – Fujifilm X-T3 firmware 3.01 released
And of course, do not forget to: