Fujifilm Managers Interviews: About Competition and Alliances, Dreams of Modular and Fixed Lens GFX and More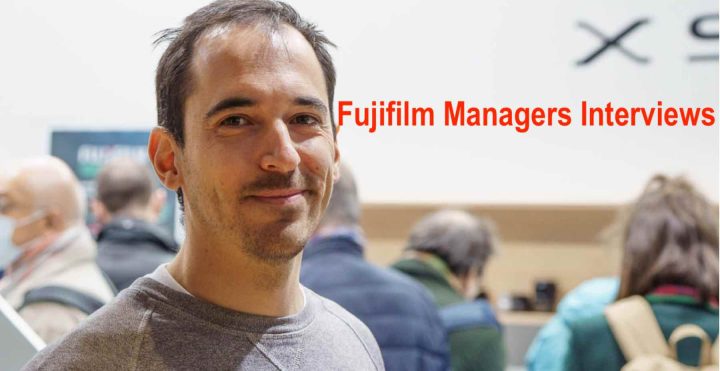 There have been two interviews with Fujifilm managers, one in French (the more comprehensive one) and one in Japanese (short).
I will sum up both of them, but the Japanese one only because it involves Koji Matsumoto, the president of Fujifilm Imaging. It does not say much at all, but if we hear from his mouth that X-H2 and X-H2S are selling better than Fujifilm thought, than it has its value.
The French manager was definitely much more talkative and if you don't speak French, our summary below will cover it all.
French Interview at Phototrend – original French version here
The interview is with French product manager Cyril Duchêne. Of course the main focus is on the French market, but there are general considerations too.
impact of Covid was much more limited than Fujifilm feared
luckily the X-T4 was announced shortly before the lockdowns and it saved the year for Fujifilm
France is the last country to switch from DSLR to mirrorless (other EU countries made the switch faster. Germany for example made the massive switch 4 years earlier than France)
Fujifilm was able to intercept part of the customers who were leaving Olympus after Olympus quit the camera market and sold all to OM Digital
M43 users come to Fujifilm because the value compactness
the post Covid now is marked by chip and parts shortage
X-H2 and X-H2S incorporate new technology that will find its way into future Fujifilm cameras
X-H2S is by far the most affordable and accessible stacked sensor camera on the market (compared to full frame stacked sensor)
during Covid years Fujifilm focused mostly on renewing their GFX series (GFX100S and GFX50SII) and less on APS-C series
X-H2 is ment offer high resolution that can be found on full frame in a balanced and compact package
the PSAM dial is to attract customers into the Fujifilm X system, who don't like retro styled controls
Fujifilm is Nr.1 in APS-C market, although the Canon EOS R7 is doing well
Nikon took advantage of the fact that they had more Nikon Zfc stock, whereas Fujifilm had more difficulties with production
Pentax is nonexistent
Sony is focusing more on video with their APS-C line, see Sony FX30
having competition is always a good thing, but in terms of IQ and ISO noise, Fujifilm is still the best in APS-C
other APS-C cameras from other brands have more compromises that Fuji's latest X-H2 and X-H2S
Fujifilm is a high end brand. When customers come to Fujifilm looking with a less than 1K budget, unfortunately Fujifilm can not meet their request [admin note: this pretty much confirms that their entry level line is now dead]
the strongest competitor for Fujifilm is the Canon EOS R7
entry level (X-A7 and X-T200) is popular mainly in Asia among female audience
in France the main customer is usually 55+ man. Sadly not enough young people and women
it's not sure if Fujiflm will return to entry level, as the sub 1K market is mostly in the control of smartphones
the new "entry level" for Fujifilm are X-S10, X-E4 and X-T30
X100V is doing very well all over the world
"X100V has the particularity of recording very good sales with each generation, without any shortness of breath. It has sold more than 100,000 copies worldwide for each generation, which represents a very good performance. It is a case to which our customers are very attached, since we can always have it in our pocket. We find it especially with SLR owners, since it is the case that we take with us on weekends."
IBIS on X100 line seems superfluous, as it would make the camera bigger
the only alternative to the X100V are the Ricoh GR III and the Leica Q
opening the mount to third parties is very good for Fujifilm
also, third parties only want to make AF lenses if your market is big enough [implying that Fujifilm is now big enough for Sigma, Tamron, Samyang & Co to develop AF lenses]
the needs of photographers are different so they can decide if they want to use Fujinon lenses or third party lenses
the manager thinks that the market will continue to shrink in volume – but that this decrease will be offset by an increase in the purchase price
smartphones is a much bigger market, hence companies put a lot of R&D there that camera companies can not match
Thus, artificial intelligence and mechanisms based on Deep Learning are only beginning to arrive on photo cameras, at Fujifilm as well as at the competition, especially on the side of autofocus
He thinks Fujifilm has still 10-15 beautiful years ahead. But will all camera companies still be there in 10-15 years?
Panasonic, Sigma and Leica merged in the L Mount alliance to increase their chances to survive in future and share R&D
why couldn't Canon, Nikon, Fujifilm and Sony merge in an alliance and share their R&D (especially knowing that Fujifilm, Nikon and Sony share the same sensors)
photos taken on the smartphone are made to be viewed on a smartphone screen. To print, it takes much more than a smartphone
for Fujifilm customers, video is still mostly an "accessory". And it's also more complicated overall than photography
and yet, it was a mistake of Fujifilm not to take video too seriously at the beginning
X-H2 and X-H2S go all-in with video
If a brand declares that the market is driven by professionals, you can shout bullshit!
The Pros represent a niche market, who exhaust their equipment before replacing it. On the other hand, some customers are lucky to have extremely large budgets
For example, with the GFX 50S II, we are on about 80% of amateurs. With the GFX 100S, we have about 60% of professionals.
prosumers are who make the photo market today. They have incredible purchasing power. And they make brands happy
Fujifilm moves away from entry level becase "we realize that for part of our customers, price is not an important point".
Fujifilm will update its APS-C fleet in future, it remains to see if with 40MP or 26MP stacked sensors
firmware will evolve
they will watch Sony Full Frame announcement to see what the future of the GFX range will be made of
GFX has made the inaccessible accessible: portable medium format
the more Fujifilm sells, the lower the price for the sensors and hence Fujifilm can sell the cameras cheaper
the manager dreams of a GFX200 one day, a large format version of the X100V
he also dreams of a modular GFX
Next up is Koji Matsumoto, President of Fujifilm Imaging. The interview is in Japanese and can be found here.
reservations for X-H2 and X-H2S were stronger than they anticipated and it hence took long to deliver the products
Instax keeps rocking
Follow FujiRumors on Facebook, Instagram, RSS-feed, Youtube, Flipboard and Twitter.
100% Fuji Colors Power
Rumors and Discussions