Fujifilm GFX100S: 10 Thoughts on Using it for Weddings, 5 Things I Don't Like and So Sensational, it Should not Exist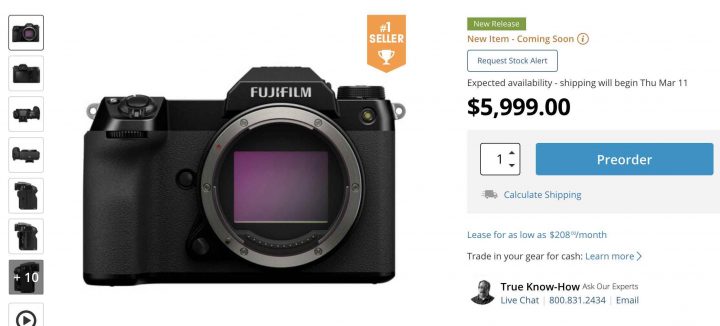 There is only one positive thing in having to wait so long for my Fujifilm GFX100S: I have more time to think on which GF lens I should get.
What does not make my waiting easier, though, are all the stellar reviews the Fujifilm GFX100S is getting by photographers all around the world.
Some, like Dollar Store Creative, say it is so sensational that it should not exist and they just cry in front of those amazing files, which can be mistreated to taste and yet keep holding up no matter what.
Others, like Joseph Ellis, used it also for weddings and share their initial thoughts about it (which we will sum up for you below).
And more down below.
If you are like me, hence waiting for yours to be shipped, I warmly invite you NOT to check them out. It won't make the waiting easier.
Follow FujiRumors on Patreon, Facebook, Instagram, RSS-feed, Youtube, Flipboard and Twitter
Fujifilm GFX100S Roundup
Blog Posts
Video Reviews
Joseph Ellis used Fujifilm GFX100S at a daytime wedding (in harsh light), along with his GF110mmF2 and the GF32-64mmF4. Here are his 10 thoughts:
the camera does not slow you down. Working, reviewing files, focus. No limitation. From a speed perspective it won't slow you down
in those micro-moments (like bride talking to grandfather and other "documentary moments"), where you would take 6 or 8 images with an X-T4 for example, with this camera you'll take half of the images. The GFX100S is pretty fast, but you will shoot less images than you'd shoot with a smaller format camera. But whenever he is directing the situation, coaching the couples etc, the GFX100S does not slow him down at all
zone tracking AF is important when trying to track people in low light. Wide area tracking works really well if you are just tracking the couple that is rather isolated in the frame. But in crowded dance floors, zone area AF is better
Fuji colors is no joke. Outstanding skin tone colors. Pleasing skin tones.
the images: shallow DOF is often a bit of a crutch for photographers who prefer to get rid of background rather than try to work with it. Sometimes is best to balance shallow DOF and working with background. He loves using this camera with flash. Also, when cropping, you retain a lot of details with the GFX
it's a camera you can carry all day. If you used a Nikon/Canon with 70-200 at weddings, carrying the GFX system is basically the same thing
SD-cards: he uses the UHS-II cards. There is the V60 and V90 version of those cards, with V90 being faster. The v60 cards writing at 150 Mb/s are fast enough
102 MP is a lot of data. For him this is important for his work. He loves to print big but he might also want to crop in severely or just deliver really beautiful family portraits with that medium format tonality
fairly incredible high ISO performance. When he shoots portraits of couples at night in the city, he wants the city lights to be bright and clear, and hence goes up very high with ISO, and this camera delivers that quality in a way he never had before. Don't worry about light situations with the GFX. It will handle it
battery life: After 535 images he still had more than half of the battery left
_ _ _
Joseph Ellis also shared 5 things he does not like about the Fujifilm GFX100S.
no indication in the viewfinder/LCD screen if you are in white balance/exposure preview mode or not. There should be an indication if that mode is turned ON of OFF. You also can't save it as part of C1-C6 custom settings
he'd love if the camera, when switching from Single AF to continuous AF, also automatically activates wide tracking mode
to save the C1 to C6 settings you have to go in the IQ menu, which to him does not make much sense. It should be in the user settings part of the wrench menu, right next to the my menu settings
when you press a button to change a setting with the command dials (ISO, white balance, shutter speed etc), the top LCD screen does not indicate which setting is currently active and being changed. For example, if he presses a button to select "ISO", he'd love it if the camera would also highlight "ISO" on the top LCD, so he can have visual feedback that that's the setting he is going to change by turning the command dial.
blackout time on the GFX100S is the thing that will hinder it to be more useful in more types of photography. It makes tracking action sequences pretty difficult
He also wishes there was a 24-70mmF2.8 and 70-200mmF2.8 equivalent lenses.