Fujifilm GFX100 Reviews: Groundbreaking Features, Justified Price and it Will Leave you Extremely Satisfied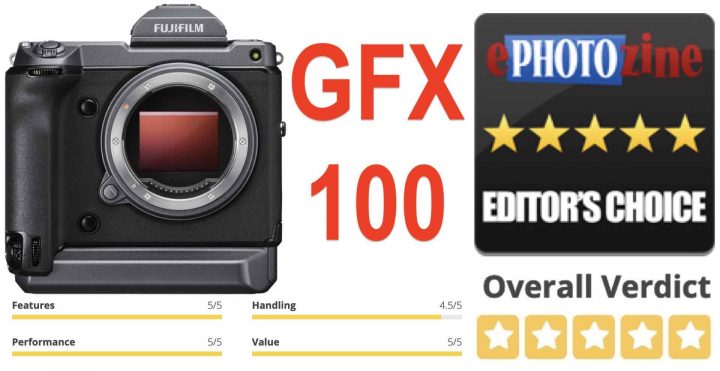 Fujifilm GFX100 Reviews
ePhotozine published their full Fujifilm GFX100 review. From their conclusions:
The Fujifilm GFX 100 offers a whole host of groundbreaking features, starting with an excellent 100mp BSI CMOS medium-format sensor, combined with high-quality lenses and excellent image processing (and colour reproduction), and you get exceptional results. What's even more impressive is how easy the camera is to use, whilst still obtaining results that impress. Thanks to the in-body sensor-based image stabilisation, you don't have to worry about taking all your shots on a tripod, or using a self-timer.
The negatives we mention below are somewhat of a given, considering you're looking at a 100mp camera, it's to be expected that you'll need a computer (and storage) that is capable of dealing with 100mp images. There will be those that find the camera too large (and heavy), however, again, the camera needs this space to support two batteries, and the in-body image stabilisation system, both things are particularly beneficial to get the best out of the camera.
It's the kind of camera that will leave you extremely satisfied.
If you can afford it, and want the best available, then the Fujifilm GFX100 is a camera that delivers the results, and the price is easily justified. The Fujifilm GFX100 is, without doubt, an exceptional, and groundbreaking camera, well worth the money.
Read the full review at ephotozine.
Other GFX100 Reviews
Fujifilm GFX 100: B&H Photo, AmazonUS, Adorama
Follow FujiRumors: Facebook, Flipboard, Instagram, RSS-feed, Youtube and Twitter
The GFX Community
GFX 100 Videos
on the streets of Tokyo, filmed in 4K with GFX100