Fujifilm GFX 50R Pre-orders Start Now with up to $2,800 Bundle Savings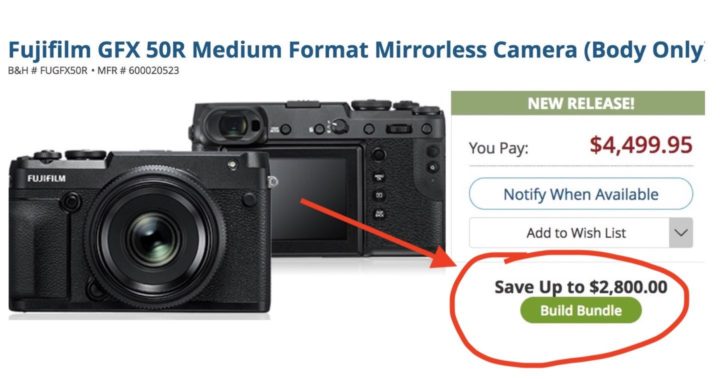 The Fujifilm GFX 50R is finally available for pre-order at BHphoto, Adorama and AmazonUS.
BHphoto also offers additional savings on top of the current GF lens deals. You can save up to $2,800 if you purchase the Fujifilm GFX 50R along with the GF63mmF2.8 (save $1,000), GF32-64mmF4 (save $800) and GF45mmF2.8 (save $1,000).
Amazon sellls the GFX 50R with the following bundles
Here is the list of GF lens deals that will expire on September 29.
GF 63mm (save $350): BHphoto, Adorama, AmazonUS
GF 32-64mm (save $450): BHphoto, Adorama, AmazonUS
GF 120mm (save $550): BHphoto, Adorama, AmazonUS
GF 110mm (save $550): BHphoto, AmazonUS, Adorama
GF 23mm (save $550): BHphoto, AmazonUS, Adorama
GF 45mm (save $350): BHphoto, Adorama, AmazonUS
BHphoto Fujifilm GFX 50R Bundle Super Deal