Fujifilm Autofocus Developers talk X-H2S firmware 3.00 and Future Firmware Updates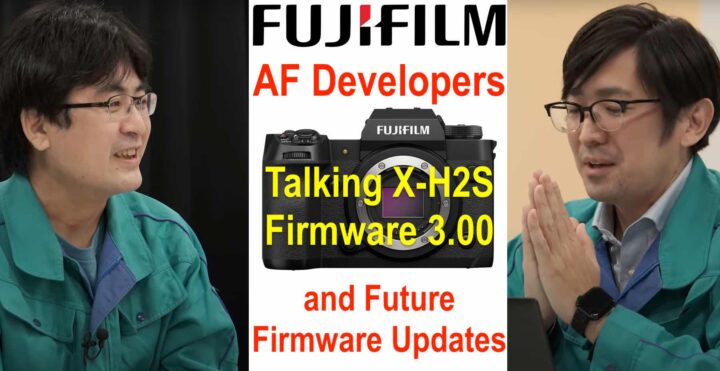 Fujifilm's X-H2S product planers and Autofocus developers meet in the latest X-Lab episode to talk about the improvements Fujifilm made with firmware 3.00 on the X-H2S.
Now, it's again available only in Japanese so we have to rely on the automatic YouTube translation tool, which is far from ideal.
But don't worry, you don't have to do that. I went through this at 6:30 AM while drinking my coffee and I will sum it up for you below.
But if any Japanese speaking reader would like suggest corrections/additions to my summary, feel free to do so by writing me at fujirumor@gmail.com or drop it down below in the comments.
Summary
Deep Learning is continuously trained to detect adverse conditions such as car or people facing sideways and small subjects
even after release, it's about continue to put in feedback into the deep learning algorithm
when subject tracking was initially launched, Fujifilm picked up on customer feedback and improved the AF tracking such for example in backlight situation or when subject is sideways
small subject detection improved
drone and insects detection added
there were complaints about the camera not being able to track subjects that move quickly through the frame, so they improved moving subject tracking
the level of demand from users has risen
fixing short lag/freeze issue on EVF before and after half pressing shutter button. Initially Fujifilm was not really concerned about this small issue, but when talking to photographers they saw that this was an important issue to fix, as it simplifies framing to have always a smooth image in the EVF
they want to continue to bring firmware updates to X-H2S so that everybody can use it more comfortably
they want to add more subject detections in future
they've found more things on X-H2S that they want to improve in with future firwmare updates
autofocus is the key part of the X-H2S so they will keep doing their best to improve that further on the X-H2S
You can see the full video below.