Fuji X70, XF100-400 + X-E2S available for pre-order at AmazonDE :: First Looks (Rico + Maclean) & Gallery (Max Angeloni)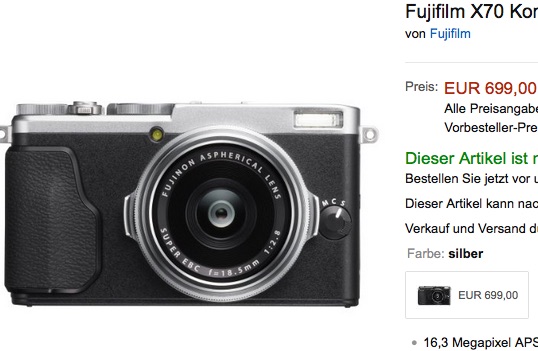 Now also AmazonDE has the XF100-400, Fuji X70 and X-E2S available for pre-order. They still don't have the X-Pro2 available for pre-order, though.
Soem tidbits to each of these new Fuji products:
The New XF100-400mm f4.5/5.6R LM OIS WR Telephoto Zoom Lens Review at macleancomms
X-E2S – La Noble Art: Stunning Gallery by Max Angeloni at riflessifotografici
Fujifilm X-Pro2: USA: BHphoto – Win $1,699 by pre-ordering at BH via FR* / AmazonUS / Adorama / EUROPE: AmazonDE / AmazonUK / WexUK / PCHstore / AmazonITA / AmazonFR / AmazonESP /   AUSTRALIA: CameraPro
* pre-order the X-Pro2 (body or kit) at BHphoto using the FujiRumors shoplink and you'll already have entered the sweepstakes. The lucky winner will get an Amex gift card pre-valued at $1,699.00. By joining this Sweepstakes, you agree with the Full Terms and Conditions. More detailed description of the Giveaway here.
Fujinon XF100-400: USA: BHphoto / AmazonUS / Adorama / EUROPE: AmazonDE / AmazonUK / AmazonITA / AmazonFR / AmazonESP / PCHstore / WexUK / AUSTRALIA: CameraPro
Fujifilm X70: USA: BHphoto / AmazonUS / Adorama / EUROPE: AmazonDE / AmazonUK / AmazonITA / AmazonFR / AmazonESP / PCHstore / WexUK / AUSTRALIA: CameraPro
Fujifilm X-E2s: USA: BHphoto / AmazonUS / Adorama / EUROPE: AmazonDE / AmazonUK / AmazonITA / AmazonFR / AmazonESP / PCHstore / WexUK / AUSTRALIA: CameraPro