Fuji X-PRO2 will be pretty much the same size as the current Fujifilm X-PRO1 (New Source)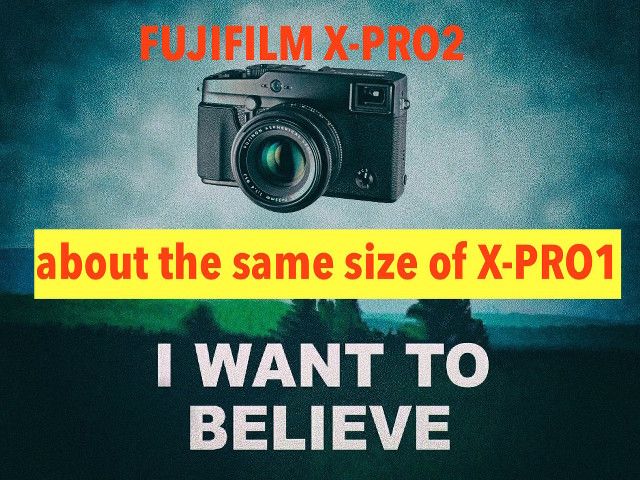 Back in February, dslrmagazine published an interesting interview with Fuji Managers.
In this interview the manager didn't say it expressidly, but DSLRmagazine tired to read ""between the lines" of his statements," and made his guess: the X-PRO2 will have the elegance and great operability of the Leica CL and it will be smaller than the actual X-PRO1.
I've launched a Poll, asking if you would like the X-PRO2 to keep the same size of the X-PRO1, or if it should be smaller.

Loading ...
And now the rumor: a new source told me, that the X-PRO2 will not really be smaller than the X-PRO1. Maybe just slightly smaller, but in fact the size will remain pretty much the same. So, no real downsizing for the X-PRO2 compared to the X-PRO1.
Would this be a good news for you? Tell us in the comments what you think about it.
have a GREAT day,

Fuji X Forum, Facebook, Google+, RSS-feed and Twitter
Rumored Specs List (TS= trusted source / NeS =New Source / AS = Anonymous Source / SRP = source who was right in the past / OS = other sites)
– APS-C sensor (TS + AS + AS)
– 24MP sensor (AS) – More than 16MP (AS)
– 1/8000 of a second mechanical shutter speed (TS)
– Sync Speed faster than 1/180th (SRP)
– about the same size of current X-PRO1 (NeS)
– dual SD card slot (NeS)
– coming late 2015 (TS + AS)
– weather sealed (TS)
– Two X-PRO2 version, one 24MP APS-C and one 25-27 MP ASP-X, compatible with XF/XC lenses (OS)
– coming September / October (OS + OS)
– Comin in 2016 (TS)
– tilt screen (AS)
– WiFi (AS)
– Non organic ASP-C X-Trans sensor (OS)
– Price about 20% to 30% more expensive than the X-T1 (AS)
– 4K video (TS + NeS)
– Faster Processor EXR III (TS)
– smaller than X-PRO1 (OS)